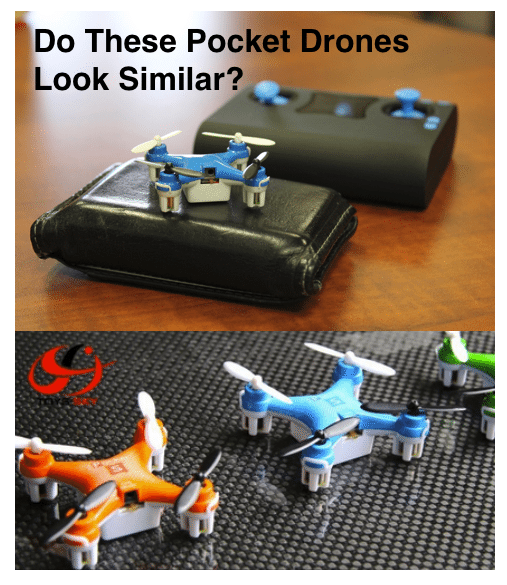 Recently we have had discussions with several people about a problematic issue with rewards based crowdfunding.  Some campaign creators may be finding products on Alibaba, repackaging them and launching crowdfunding campaigns posing as new creations.  Is this illegal?  Probably not. Is it wrong. Yes – definitely.
This is an area that all backers and platforms need to take a closer look at.  For tech campaigns we try to search Alibaba first to verify creators are really creating instead of just shipping.
To highlight this issue, there is an interesting thread on Reddit under /shittykickstarters that was brought to our attention.  The poster alleges that Wallet Drone – Worlds Smallest Quadcopter is a complete repackage of an existing drone. The Redditer does a convincing job in proving the allegations too, with plenty of links and copies of comments that have been deleted by the project creator – a pretty damning sign that you have something to hide.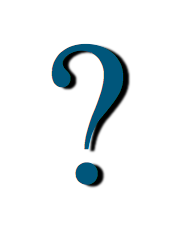 Berrygumdrops (on Reddit) states;
"Found out after contributing to the Wallet Drone campaign that it is a scam. This person is importing an already made Chinese product and rebadging and reselling to people on Indiegogo. Under Indiegogo rules, we're stuck and cannot back out once we pledge our money. Now over 1000 people and I are stuck giving him money. Whenever someone asked about proof and posted links he deletes them immediately. Here are some screenshots of a couple messages that I captured before he deleted them, but there were many more. [here] [and here] This sort of practice takes a lot of credit from people who actually use crowdfunding to fund their original products and hurting people's views about crowdfunding. This is cheats pledgers and creates a bad image for all creators."
Earlier this month a website wrote up a buyer beware article specifically on the Axis Drone Indiegogo campaign.  The author states if you want to wait for one – purchase it on Indiegogo. If you prefer to buy one immediately: buy it here now on eBay. Ouch.
Back to campaign creator Robert Morrison and his Axis Drone project.  It appears he is pretty experienced with using Indiegogo to sell projects with questionable progeny and transparency. The Reddit thread lists multiple campaigns and associated similar products on Amazon and Alibaba.
Wow, looks like he's a repeat offender and has been scamming people for a while with imported goods and claiming he made all of them. Indiegogo doesn't seem to care as long as they pad their pockets:
Crowdfunding is NOT a store. It is always buyer beware.  Every backer must perform their own due-diligence prior to putting money into a project that may not end up being what it appears to be.
As for crowdfunding platforms, hopefully they will update their review process to eliminate crappy campaigns that are little more than a marketing effort and a new package.  That is simply wrong.
---
Update: Crowdfund Insider reached out to Command Partners, the marketing firm assisting on the Wallet Drone campaign.  A company spokesperson provided the following statement:
"I assure you that Command Partners takes this matter very seriously, as we carefully vet the clients and projects that the agency promotes. Being on the ground floor of the emergence of crowdfunding, we hold the crowdfunding community near and dear to our hearts and would never deceive the community into supporting a project that is not transparent and truthful in all of its endeavors.
Robert Morrison, the creator of Wallet Drone, has over 20 patent claims pending with the USPTO for the Wallet Drone device that has been in development since 2014. Unfortunately, it takes 18+ months to publish a patent application, so Wallet Drone is considered "Patent Pending" from the time they submit the application.
Morrison has not filed for any International Patents, which leaves him wide open to being copied and infringed upon from other places in the world, including China."
---
Update 2: 
Someone on Reddit
(Quackrocks) found comments by Robert Morrison where he appears to confirm that he is just a reseller. Now I am not certain which campaign these comments were associated with but … Really?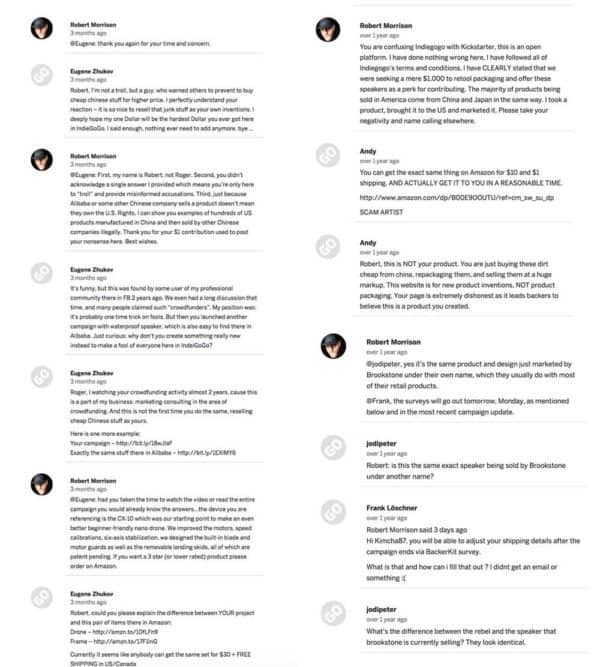 See some of the deleted comments below.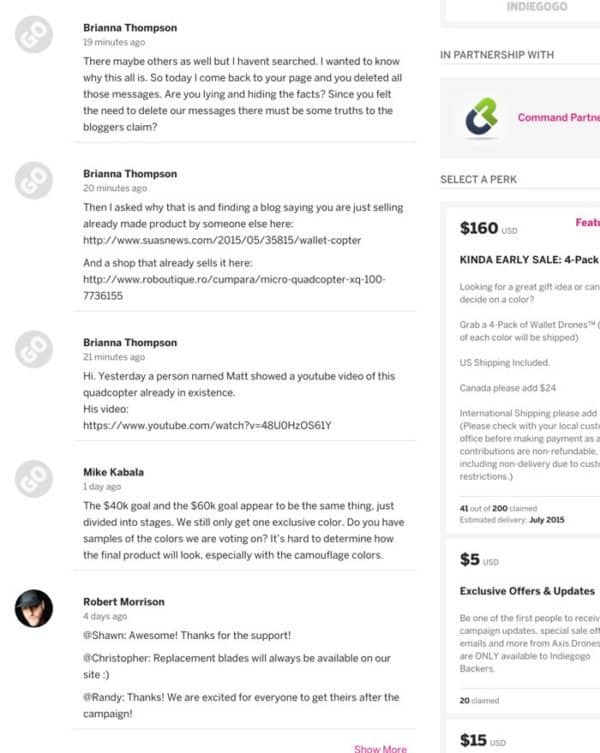 Have a crowdfunding offering you'd like to share? Submit an offering for consideration using our Submit a Tip form and we may share it on our site!