Earlier this year, Katy Perry's Super Bowl performance, which featured dancing sharks, took the Internet by storm and inspired environmentalist David Lam to launch a campaign on Indiegogo to create costumes for fans everywhere. This was also to raise funds for the World Wildlife Fund, Wildlife Conservation Society and renewable energy nonprofits.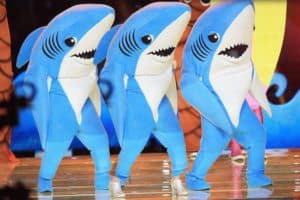 Those who backed the project were to receive various rewards, including shark stickers, shark suit, and even a replica shark suit that's ready-made. Lam stated that 100% of the profits will be donated to the organizations. The suits were even set to be delivered this month.
While the campaign reached $92,710 (1,595% of its original funding goal), the project has been sitting in limbo since April and backers have grown tired of the Lam's silence. Backer, Laura Sirikul,  launched a Changed.Org petition as a way to get Indiegogo to refund their money – since it appears that Lam has failed to deliver on his campaign promises.
The petition reads:
"No updates. No suits. No evidence of donation. The people who donated to this cause have not gotten anything that was promised to them. They have not received any updates as well. This was a complete scam.  People should sign this to let Indiegogo know what this project has done (or not done) and refund us back the money."
Sirikul also noted that since the petition surfaced, Lam finally answered her messages:
"After posting this petition, I finally got messages from David Lam, the creator of the Indiegogo campaign. He told me this is a volunteer project and he's working about 70 hours a week on his real job.

"I told him he should just update everyone on the status instead of no responses. He said he'll update soon (we will see) and he asked me to take down the petition, which I won't until we see some results – either refunds or the suits or items people were promised.  I gave him options to work with RootSuits (they made their own Left Shark suit). He said he will look into it.

"He asked me to join the team to help him. I refused because this is not my responsibility. He said he has not touched the money from the project. I will request for proof later. He said he will refund the money if the project becomes impossible. I am going to ask him for a deadline soon. He does want to work with us on this, but until we see some updates, PLEASE keep sharing this petition and spread the word."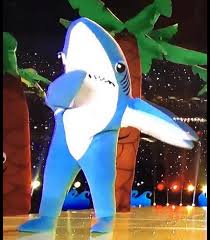 It appears that not only backers are tired of Lam. Terri Yang, the designer of the shark suit, and she said she is no longer involved with the project, but she has already designed the suit for production. Upon reading details about the situation, Rootsuits, who have their own Left Shark costume already produced, have offered to help Lam in the production of the costumes.  Sirikul added:
"David said he will respond to him and actually does something, until then this petition stays. He asked me to remove the petition but I won't until everyone gets a response. Their product or their refund… And still no update from him regarding the project."
Indiegogo has yet to respond to the backer's petition.

Have a crowdfunding offering you'd like to share? Submit an offering for consideration using our Submit a Tip form and we may share it on our site!

Sponsored Links by DQ Promote