Wealth Migrate, the tenth-largest global real estate crowdfunding platform as reported by Massolution, today announced the opening of their newest office in Shanghai, China. The decision to open a second office in Asia is based on the exponential growth of crowdfunding in that region, their exceptional on-the-ground partners, and the overall demand for quality real estate investments within the Chinese markets.


Wealth Migrate CEO and co-founder, Scott Picken, stated:
"Shanghai is well on its way to becoming the financial hub of the world. Our goal is for the Shanghai office to support the interests of Chinese investors who want to grow their wealth overseas."
The National Association of Realtors recently reported that Chinese investors have surpassed Canadians as the largest group of foreign investors in the U.S. real estate markets. This, coupled with the recent down turn in the markets and the massive adoption of crowdfunding in Asia, informed Wealth Migrate's strategic decision to expand their support to foreign investors.
According to the 2015 Real Estate Crowdfunding Report by research firm Massolution, crowdfunding in Asia grew faster than any other area of the world, boasting a 320 percent growth in 2014, which highlights a growing trend of Asian investors tapping into foreign markets for real estate investment opportunities. Chinese investments in global real estate markets are expected to top $15 billion this year, according to the Knight Frank Chinese Outward Real Estate report, further illustrating the need for an office that supports Chinese investor interests.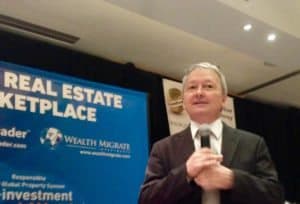 After an in-depth evaluation of many markets and asset types across the world, Wealth Migrate chose Shanghai because it is known as the technology and finance hub of China, making it a premier office location for companies in the "fintech" space.
President of Wealth Migrate, Dr. Dolf de Roos, added:
"The company recognizes the value of the burgeoning crowdfunding market in China, which is known as Internet Finance in the region, and is positioning itself to be able to service that market."
Wealth Migrate's Shanghai office will increase their footprint within Asia, having opened an office in Singapore last September.

Sponsored Links by DQ Promote