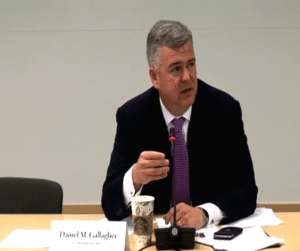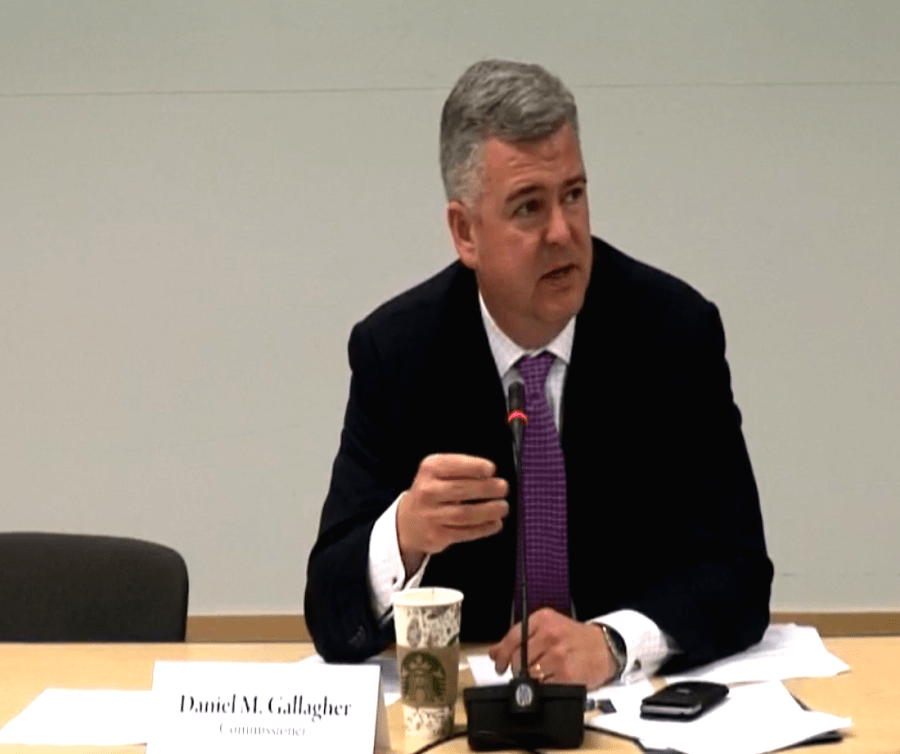 Outgoing SEC Commissioner Daniel Gallagher presented a statement at the opening of the SEC Advisory Committee on Small and Emerging Companies (ACSEC).  Gallagher lauded the group's commitment, energy and dedication over the past two years calling the members work "critical in helping to bring forward the voice of small and emerging companies."  He stated, "the voice of the committee is needed more than ever."
The ACSEC committee serves at the behest of Chair White.  While their recommendations may be considered, the Commission is not bound to pursue, nor comment on the proffered advice. Gallagher believes the Commission, at a minimum, should provide written responses to the committee's work.  In his view, this "would be a tangible sign of our commitment to fulfilling our statutory mission to facilitate capital formation".
A persistent critic of the deleterious impact of Dodd-Frank, Gallagher stated
"… it is far too easy to simply sweep smaller reporting and emerging growth companies into the scope of these new regulations, despite the ever-mounting compliance burdens that the SEC's regulations."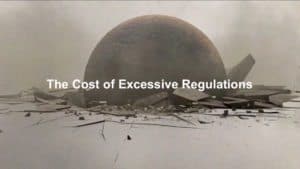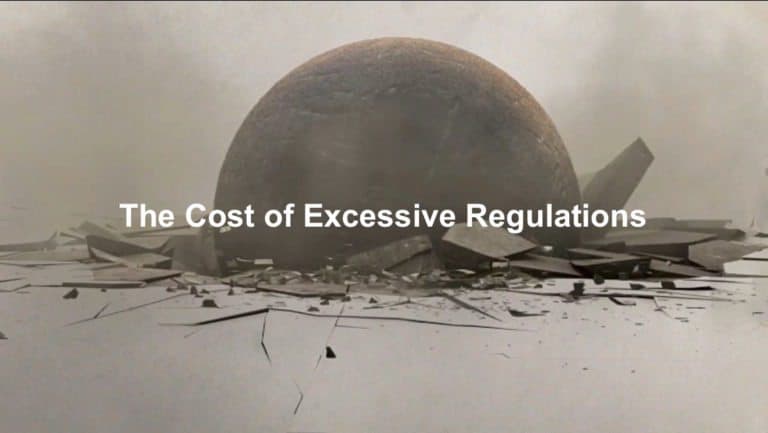 In addressing the JOBS Act, Gallagher believes this legislation may have "shocked the patient back to life," alluding to the moribund IPO market. But regulatory relief is still desperately required.
He also notes a regret during his tenure: The inability to move forward on Venture Exchanges.
Gallagher has been an ongoing champion of small business – the heartbeat of the US economy.  He remains one of the few regulators that speaks out consistently addressing the cost excessive regulations assessed on SMEs.
Commissioner Gallagher's remarks are republished below.
---
Commissioner Daniel M. Gallagher
Sept. 23, 2015
Thank you, Chris[tine Jacobs] and Stephen [Graham].  Thank you in particular for your service as co-chairs of this Committee, which has been exemplary.  And thank you to all of the Committee's members for not only braving the papal visit traffic to be here today, but for the commitment of your time and energy over the past 2 years.  The work of this Committee is critical in helping to bring forward the voice of small and emerging companies — a voice that is too often unheard or ignored, particularly in the post-Dodd-Frank rush to regulation.  This Committee has examined issues of critical importance for small business, deliberated over how best to address them, and issued to the Commission well-reasoned written recommendations.  I believe the least we as a Commission can do is to commit to providing the Committee with written responses to those recommendations.  This isn't just a matter of showing respect for your work; it would be a tangible sign of our commitment to fulfilling our statutory mission to facilitate capital formation.  Unfortunately, these days, there are few other visible signs of that commitment.  I am glad that the Committee is being renewed for another two years, and although I unfortunately will no longer be here as a consumer of your recommendations, believe me I will be cheering you on from the outside.

The voice of the Committee is needed now more than ever.  As we've seen with the Commission's recent rulemakings advancing the executive compensation-related provisions of the Dodd-Frank Act, it is far too easy to simply sweep smaller reporting and emerging growth companies into the scope of these new regulations, despite the ever-mounting compliance burdens that the SEC's regulations place on these companies.  And then we all wonder why so many successful start-up companies look to stay private as long as possible, before selling out at a multi-billion dollar valuation to an established industry incumbent.  The JOBS Act may have jumpstarted the IPO market, shocking that patient back into life with a deregulatory jolt.  But the IPO market is still convalescing, and we should be administering strong medicine in the form of regulatory relief to grow our economy, create jobs, and help lift our anemic economic recovery into robust growth.  The Committee's thoughts regarding the expansion of simplified disclosure for smaller issuers generally would be, if implemented, a tremendous step in that direction.  Failing to pursue these and similar ideas for actively facilitating small business capital formation would leave in place regulations that are not well-tailored for small companies, or where the costs do not justify the benefits, or where the cumulative impact of the regulations taken together are smothering small business — in turn, suffocating the IPO market that Congress tried so hard to save.

On a similar but related note, I would hope to see consideration of recommendations relating to the Division of Corporation Finance's Disclosure Effectiveness review more broadly.  This will be a vital subject for the Committee to monitor closely — we've already seen this project transition from Disclosure Overload to Disclosure Effectiveness, and some would like to take this as a perfect opportunity to advance pro-regulatory ends.  War is peace, ignorance is strength, and disclosure effectiveness is more disclosure.  If more disclosure were the price we must pay in order to make information useful for small business investors, then we would now have excellent disclosure.  Not to state the obvious, but we do not have excellent disclosure.  And we all know that eliminating or scaling disclosures is a more fruitful path to that end.

I hope the Committee can also continue to pursue a robust agenda of its own, including a continued focus on secondary markets for small business securities.  Robust, liquid secondary markets are critical for the success of our reforms on small business security issuance, including Regulation A+, and the Committee's input on "venture exchange" or other similar liquidity venues will be of tremendous use in advancing the ball on those issues.  One of my many regrets as I leave the Commission is that no meaningful steps have been taken to facilitate venture exchanges.  It appears Congress will have to take that up for progress to be made.

I am, as always, excited by the work of this Committee, and look forward to seeing what the renewed Committee will do in the future, assisted as always by the incredibly capable Sebastian Gomez Abero, Julie Davis, and the staff in the Division of Corporation Finance Office of Small Business Policy.

I wish you a fruitful and stimulating day of discussion.

Sponsored Links by DQ Promote