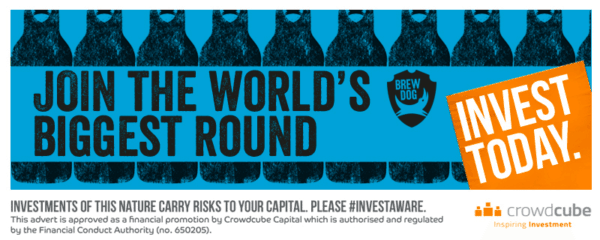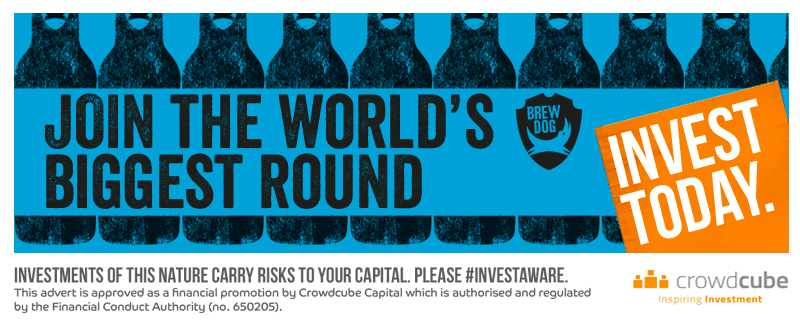 Cheers to BrewDog, one of the UK's first craft beer brewers, for raising £10M and setting a UK record for the largest equity crowdfunded project. Listed on Crowdcube as a "first" combined debt and equity capital raise, BrewDog and Equity for Punks marketed the offer as the "World's Biggest [funding] Round. At this writing, the additional breakdown of Equity for Punks or other private funding after Crowdcube's still live campaign (which has secured £1.77M) has not been made available.
"Equity for Punks is all about shortening the distance between us and the people who drink our beer, and enabling us to keep putting passion in people's beer glasses without resorting to begging funding from big monolithic banks who don't care about the beer," James Watt, BrewDog Captain, told City A.M. "£10M is phenomenal. But we're not stopping there."
BrewDog, which turned over £30m last year, said the latest campaign would run until April 2016 and had a final fundraising target of £25M. According to Crowdcube, investors may purchase two shares of BrewDog stock for £95 or purchase a bond for £500 with a fixed 6.5% annual rate of return.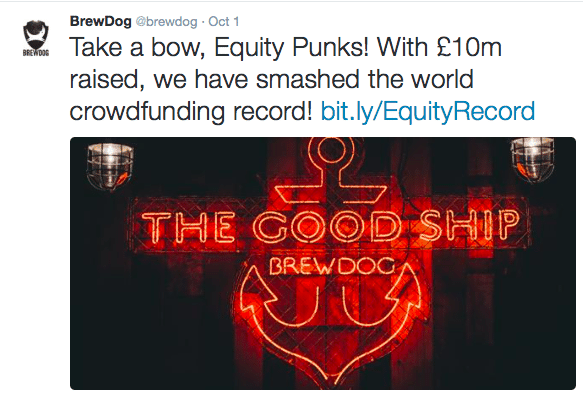 "Equity for Punks IV has now passed the £10m mark – a ground-breaking figure for equity crowdfunding," shared BrewDog on its website. "According to MarketWatch, the previous high for an equity crowdfunded project in the world totalled $6m raised – so we have let fly a wrecking ball in that direction, to the tune of over double the amount. So make that two wrecking balls. And we are not finished yet."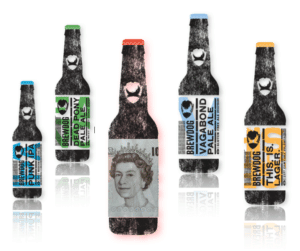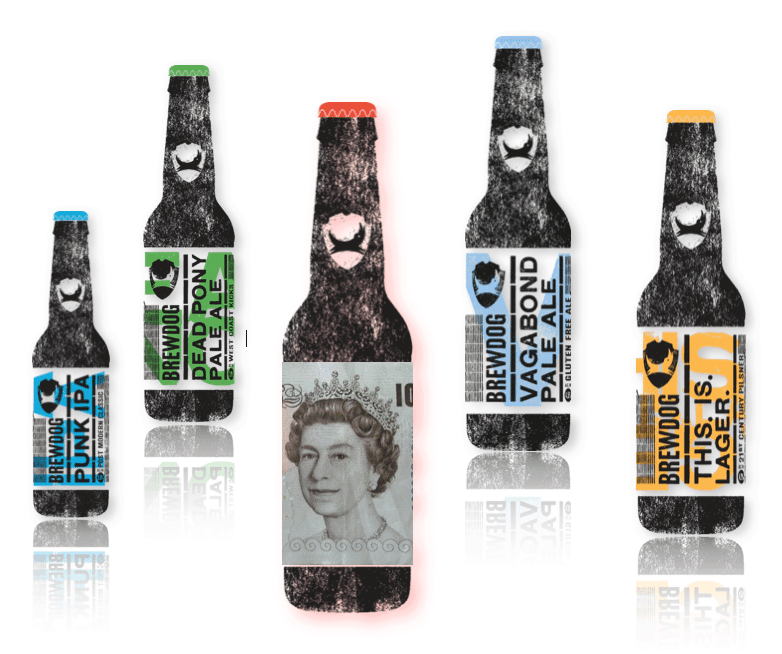 Currently in its fourth crowdfunding round for Equity for Punks, the Aberdeenshire brewer has raised £5M in the first three weeks through the issue of shares and mini-bonds with 526,316 shares offered with a minimum investment of £95 for two.  According to BrewDog, 35,000 people have invested  and have also become ardent brand ambassadors: "Our Equity Punks are the heart and soul of our company, and we are stoked that the number of people who have invested has now reached 35,000."

"In many ways," said Crowdfund Insider's JD Alois,"BrewDog is a perfect example of using the internet to marry fans, ownership and advocacy for a consumer-facing product." BrewDog is a noted maverick and trailblazer in the equity crowdfunding and beer perks scene.  Not so long ago…in the early days in the back of a van… before the chopper, two guys and dog enjoyed an epic journey of taking Brew Dog from null to the largest independent brewer in Scotland.

_____________________________________________________

Sponsored Links by DQ Promote