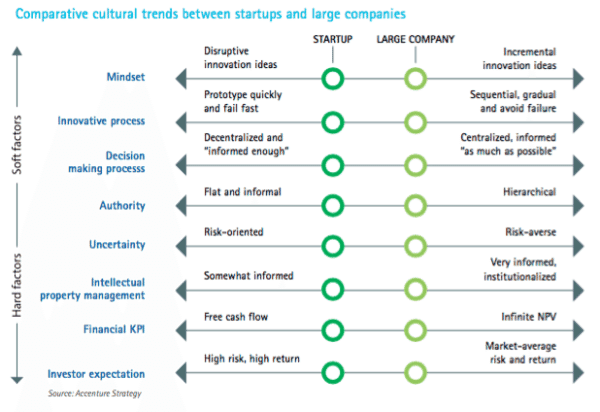 Global consulting firm Accenture has published research reflecting on how difficult it is for big corporations to incorporate an innovation culture: One that not only embraces change, but empowers it to thrive. Accenture  did a survey of 1000 large companies, along with a poll of 1000 entrepreneurs and unsurprisingly "too often large companies remain stuck in the early stages of [collaboration]".  The risk, according to Accenture, is $1.5 trillion in additional economic growth.
Jitendra Kavathekar, MD of Open Innovation at Accenture states;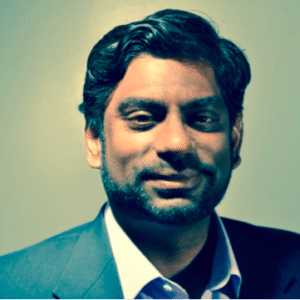 "The journey to open innovation requires large companies to recognize that collaboration cannot continue to be done on their terms, on their premises or just for their benefit. To make a success of digital disruption will require new forms of innovation in which multiple partners collaborate to create, fail and try again in more experimental and entrepreneurial settings. That can only happen if more participants come together through digitally enabled networks to create innovations together."
Accenture notes that "cultures of entrepreneurs and large companies often diverge significantly".
"Large companies and entrepreneurs also often do not see eye to eye on strategy and commercialization. Large companies are looking for smaller startup partners to be more attuned to their corporate strategy. One financial services executive noted, "Startups are focused on their own value proposition, but instead of just selling their own vision, they should understand what the corporate strategy/vision is."

One other bank executive commented that about 40 percent of managerial time was being spent on internal governance related to the collaboration."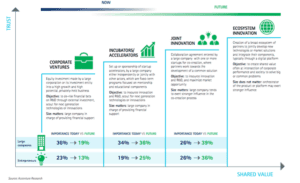 (Every banker will be nodding his head at that last statement.)
While the report by Accenture most likely has its roots in Clayton Christensen's Innovators Dilemma, the author's believe their is a method to the process that can get both parties aligned. Sure there are incubators and accelerators sponsored by jumbo corporations but these are just steps in the evolution towards "Ecosystem Innovation" in the journey of Open Innovation.
How do we get there? Well, of course, Accenture is ready to help out, but they have bulleted several foundational objectives for both parties to get aligned.  You can read it all below.
The executive summary is embedded below.
---
[scribd id=284572204 key=key-Wt5d3zmZm7k6aK9usCvc mode=scroll]

Sponsored Links by DQ Promote