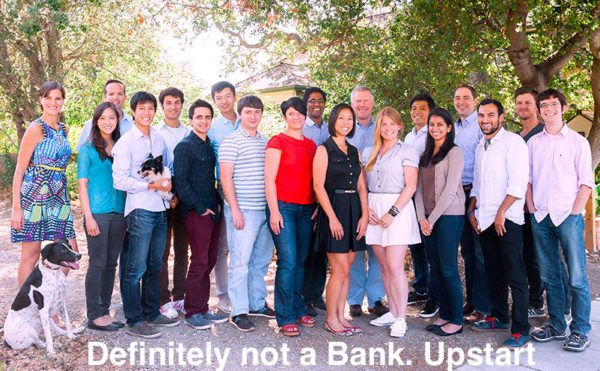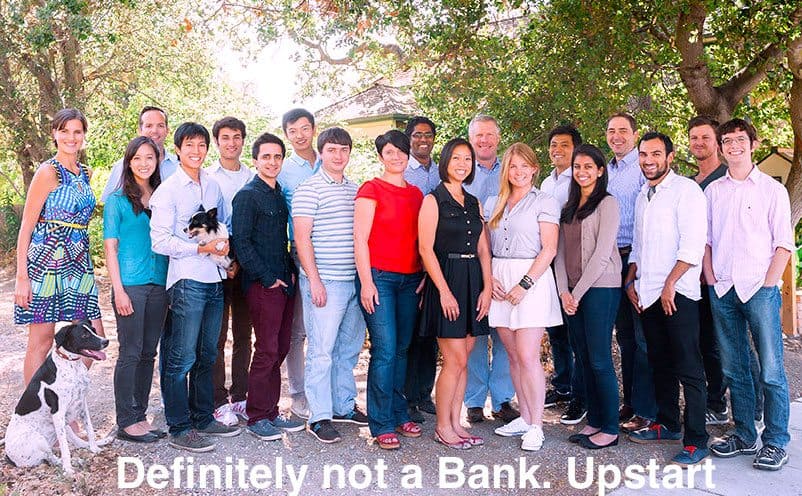 Former Googlers Dave Girouard and Anna Mongyat joined with Paul Gu (a Thiel Fellow) to launch Upstart in 2012.  Originally envisioned as a more altruistic lending platform that invested in the person and not the loan – somewhat similar to Pave –  the platform has since morphed into a more traditional P2P/Marketplace lending operation. Today, borrowers may access loans of up to $35,000 at rates as low as around 4%.  That is pretty respectable (just look at your credit card statement).
Accredited, or institutional, investors may sign up to help finance loans for a relatively affluent, yet younger group of borrowers. The type of people who are well educated and dependable but lack an extensive credit history – something banks avoid with a knee jerk reaction.  This newer model has paid off too.  It took Upstart 13 months to originate $100 million loans. The next $100 million: just 4 1/2 months.
So what is behind this dramatic growth? Sure the banks are their own worst enemy. Everyone knows that millennials would rather do a trip to the dentist than endure the agony of teller at a bank.   Upstart explains their growth is due to the fact they look beyond FICO scores – something banks live and die on.  Upstart uses criteria like: education, area of study, academic performance (yes your grades count!) work history and more to create a model based on character.  Because in the end it is your character that determines if you are compelled to live up to your responsibilities.  One publication recently called this approach as "GPA based Lending". Upstart prefers to call their borrowers "future prime" as that is the trajectory of their customers.  Results? About 98% of the loans are either current or paid in full.
Took 13 months to our first $100M in @upstart loans. 4.5 months to our 2nd.

— Dave Girouard (@davegirouard) October 15, 2015
Millennials, people aged between 18 and 34 years old in 2015, will top 75 million this year – surpassing the baby boomers in size and, inevitably, economic clout.  It is this segment of society that Upstart is targeting.  Head to the future. Not the past.
A quick review of the list of investors in Upstart and you will understand they are not just convincing young borrowers about the efficacy of their mission.  Names like Eric Schmidt and Mark Cuban have signed on for the odyssey too.
Recently I had the chance to catch up with founder and CEO Dave Girouard to learn more about Upstart and his vision for the future.
---
Midori Yoshimura: How did you and your team of former Google employees develop the idea to finance people based on signals of their potential?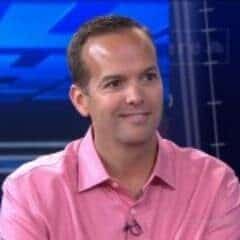 Dave Girouard: Upstart was founded on the idea that young people don't have great access to credit, typically because they lack a long and proven credit history. But by using data and analytics that traditional lenders don't use, we could develop a more complete picture of a potential borrower, and this would result in a lower cost of credit to them.
There's been virtually no innovation in U.S. consumer credit modeling for decades. The traditional FICO-based lending is inherently backward looking and limited. With modern data science and computing, we're building an underwriting model that allows us to increase approval rates while simultaneously reducing losses.
Midori: How did your experience as president of Google Enterprise and building Google's cloud apps business contribute to your development of Upstart?
Dave: We think of Upstart as the marketplace lender that Larry and Sergey would build, so Google has shaped almost everything we do. We brought along many of the things we loved most about Google: the focus on exceptional talent, the willingness to make big bold bets, and a healthy disregard for the impossible. The pace and optimism of Google are very central to how we work at Upstart.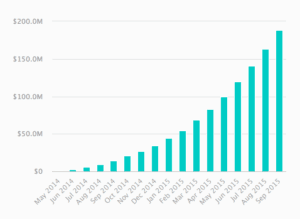 Midori: What are some of the most popular reasons for applying for loans through Upstart?
Dave: Our loans are rated #1 on Credit Karma because we offer the best rate and the best experience available anywhere. Lots of people have credit card debt early in their careers through no fault of their own, and Upstart is the best way to replace that treadmill of monthly card payments with a lower priced loan where the end is in sight. At Upstart, we know a lot more about you than other lenders do, including your work and academic history, so we're able to pass that along to you in the form of a lower interest rate.
Midori: What are some of Upstart's highlights after launching in 2012?
Dave: Our biggest milestone since founding took place toward the end of 2013, when we decided to move towards a personal loan product. That decision not only saved the company, but is the reason for our incredible growth over the last 17 months. It took us 13 months to reach our first $100M in Upstart loans, and just 4.5 months to reach our second $100M.
Midori: How would you respond to critics of Upstart's algorithms who argue that assumptions are a significant part of the scoring models? How would Upstart minimize such assumptions?
Dave: At Upstart, our goal is to use as much data as possible, combined with exceptional data science, in order to approve more and more borrowers at lower and lower rates. There's been virtually no innovation in this area in decades, so the opportunity is enormous.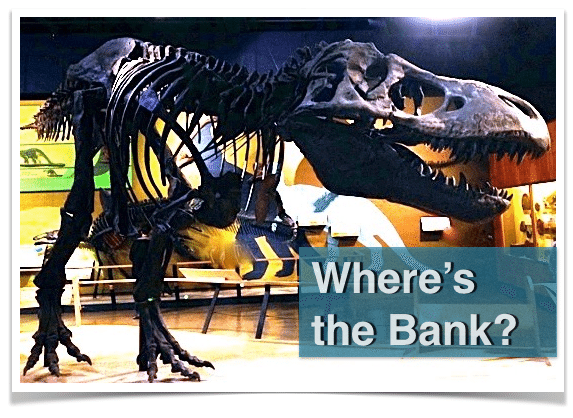 The way traditional lending works is that you're essentially guilty until proven innocent. We want to use as much data as possible to demonstrate that more and more people are indeed creditworthy. We measure our success by evaluating the percent of applicants that our credit model approves without reducing overall credit performance, using a static cohort of applicants. At this point, our credit model is learning very quickly, and we're able to approve about 5% more applicants each month compared to the prior month.
Think of it this way: An omniscient lender would approve loans for more than 80% of the US adult population, and would have virtually no defaults. Yet most lenders approve about 20 percent of applicants and have default rates from 5 to 30%. We'll never be omniscient, but deep continuous innovation in data science and credit modeling can result in dramatically wider access to credit on fair terms, and that's good for everyone.
Midori: In an interview with Fox Business about the benefits of lending to young borrowers, you mentioned that Upstart finds prime borrowers before anyone identifies them as such. Do you often see repeat borrowers on the platform?
Dave: We started originating only about 17 months ago, so it's a little soon to see repeat borrowers at scale on our platform. The beautiful thing about our business is that we're winning over these "future prime" borrowers with a product that meets their needs today, and we'll be able to serve them with a broader set of financial products for decades to come.
Midori: What are your thoughts on the U.S. Treasury's Request for Information (RFI) in July, seeking public input on expanding access to credit through online marketplace lending? The response period recently closed.
Dave: We're very supportive of the Treasury getting more actively involved in marketplace lending. The industry could definitely benefit from more clarity on the regulatory front. There's a very complicated web of regulators with often overlapping jurisdiction. This uncertainty inevitably results in higher interest rates to borrowers and higher costs to platforms like ours. Marketplace lending has introduced a level of transparency that is unprecedented in traditional lending, so we have no fear of increased oversight or regulation.
Midori: What do you think about the possibility for new rules for online lending? What would be your ideal scenario?
Dave: I suspect that any new rules would be helpful in the sense of eliminating perceived risk over what the Treasury might do. It's clear that marketplace lending is significantly broadening access to credit for consumers and small businesses, so there's isn't a strong incentive to put a halt to it. As long as your products are clearly pro-consumer or pro-business, and you work cooperatively and proactively with regulators, I don't think you have much to fear.
Midori: What advice would you give to aspiring entrepreneurs?
Dave: I founded Upstart when I was 46. You should start much sooner. Ha!
Midori: What do you envision next for Upstart?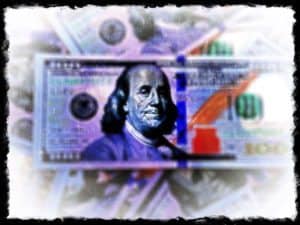 Dave: Upstart's mission is "Financial fitness for all," and we have a long way to go to make that a reality. We want to help millions of people achieve a base of financial fitness that will last a lifetime. We can't make everyone fabulously wealthy, but we can help them achieve a state of financial fitness, which implies money doesn't limit the life you live and isn't a source of stress for you everyday.

We expect originations of our personal loan product to grow at least 400% next year. And we'll bring more products to the market that will take advantage of our modeling and data science to bring our mission closer to reality.

Midori: What do you see in the future for loan models based on nontraditional factors? More broadly, for peer-to-peer lending?

Dave: Just like autonomous cars, the use of intensive data science to radically overhaul and improve credit modeling is inevitable. In a decade, platforms limited to FICO-based lending models will be archaic and non-competitive. "Nontraditional" really just means that nobody has done it before, which is a given for virtually every major technology-based disruption we've seen in the last two decades.

Worthwhile disruptions are rooted in massive value creation for consumers, and there are few things more valuable than broader access to credit on fair terms.

Sponsored Links by DQ Promote