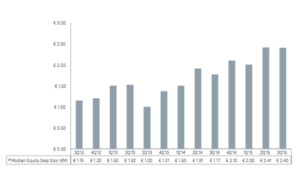 European venture capital has dropped 58% in capital raised from Q2 to Q3 2015.  This is according to a report produced by Dow Jones.
The research states that 13 European venture capital funds accumulated €853 million during 3Q 2015, dropping 58% in capital raised from 2Q 2015 with a 52% decrease in the number of fund closings. This number is balanced by the revelation that investment into European venture backed companies improved in Q3.  European companies raised over €3 billion for 355 deals during 3Q 2015, a minimal increase in the amount raised from 2Q 2015 despite a 5% slide in the number of deals completed. The year over year numbers indicate that both investment totals and number of deals increased, 31% and 1% respectively.
Biggest sector?  Consumer Services. Approximately €935 million for 103 deals or 31% of total for Q3.  Healthcare came in second and Business & Financial Services came in 3rd.  Bpifrance was the most active fund.
As one may expect, the UK was the most active nation in regards to equity financing. Across 87 different deals, €947 was raised capturing 31% of all equity financing for the quarter. This was in spite of a 9% decrease in deal flow from Q2.  France came in second with 19% of VC equity financing for a total of €567 million.
The report states that 43 VC backed M&As took place for a total of €2.7 billion, a 2% increase over Q2 but a drop of 27% versus year prior Q3.
Eight VC backed IPOs took place in Q3 raising approximately € 700 million in Q3.
[scribd id=287237661 key=key-PGjmF53KhSQR8M7oRvnC mode=scroll]