Cumulative lending to SMEs from Peer to Peer platforms will hit £3 billion before January 1st, according to a report from MarketInvoice. The company states that funding raised by SMEs via P2P lenders was up over 50% from year prior. The total lending to SMEs for 2015 is said to be over £1.5 billion.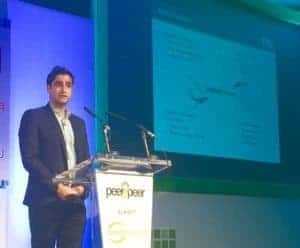 Anil Stocker, CEO & Co-founder of MarketInvoice, said of the milestone;
"UK small businesses have been quick off the mark in embracing alternative finance. Even if banks don't want to lend to our small businesses, there are lots of people that are happy to step in and fill the funding gap. Peer-to-peer platforms are making sure our businesses can get those funds. "
MarketInvoice has lent over £600 million since launch with approximately half of this amount coming in 2015 alone.  The company is one of the British Business Bank partners having lent over £50 million through the BBB program.
MarketInvoice believes that SME lending should total more than £6 billion in 2016 if current trends hold. The same report drew a contrast to traditional banks. Four in ten businesses' first-time loan applications are rejected by banks, and only 55% of businesses see loan applications accepted, according to data by BRDC SME Finance Monitor.