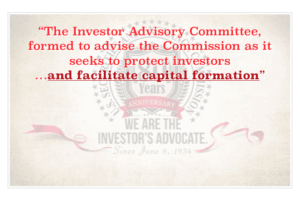 Unless winter happens to show up in our nation's capital, the SEC's Investor Advisory Committee is scheduled to meet at the Commission's headquarters on January 21st. These meetings are open to the public but the SEC typically live-streams the proceedings so anyone may watch the discussion.
The IAC was established by Dodd-Frank and is designed to provide perspective to the Commission. Chaired by the MD of the CFA Institute, Kurt Schacht, past meetings of the IAC have tackled such issues as; the definition of an accredited investor, investment crowdfunding, general solicitation, decimalization & tick sizes, and more. The agenda, reproduced below, includes several topics of interest including an update on crowdfunding rules. A source has told Crowdfund Insider the topic of equity crowdfunding will be addressed by Chris Tyrell, Chair of CFIRA, and Sara Hanks of Crowdcheck. The pair will be joined by representatives from NASAA and the AARP who will be present to share their perspectives on the new form of finance.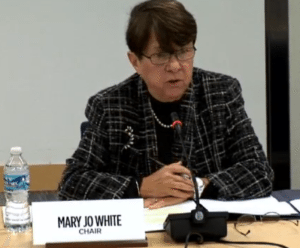 NASAA has been critical of investment crowdfunding in the past and, at one time, listed crowdfunding as one of the "top investor threats".  AARP may present on the potential for elder fraud, always a topic of discussion at the SEC and elsewhere.
The meeting is scheduled to commence at 10AM on the 21st.
Agenda: January 21, 2016 Meeting of the Securities and Exchange Commission Investor Advisory Committee
| | |
| --- | --- |
| 10:00-10:25 a.m. | Welcome Remarks and Continental Breakfast |
| 10:25-10:30 a.m. | Approval of Minutes of Previous Meeting |
| 10:30-11:30 a.m. | Discussion of Fixed Income Market Structure and Pre-Trade Price Transparency |
| 11:30-12:30 p.m. | Consideration of Draft Letter to FASB regarding Materiality |
| 12:30-1:45 p.m. | Lunch/Non-Public Administrative Session |
| 1:45-2:00 p.m. | Subcommittee Reports |
| 2:00-3:00 p.m. | Update on Crowdfunding Rules |
| 3:00-4:00 p.m. | Discussion of NASDAQ Listing Standards—Shareholder Approval Rules |
| 4:00 p.m. | Adjourn |
Sponsored Links by DQ Promote