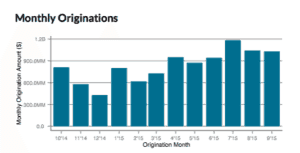 Orchard has published its' monthly industry report covering the marketplace lending sector for consumer unsecured loans. According to data provided by the company, total origination volume has consistently increased quarter-over-quarter during the past year.
Some highlights included in the document;
Borrower interest rates have been relatively consistent with a 96 basis point increase in September and a 61 basis point increase year over year.
Following Fed action, rates are expected to increase in 2016
Average loan size is increasing. In October of 2014 a typical borrower received $7,024. A year later in September 2o15 that number has jumped to $11,516 as smaller loans have declined and consumers borrow bigger amounts.
Weighted average borrower interest rate by FICO score indicates a low rate (<680) in September saw borrowers receive a rate of 22.7%.  On the other end of the spectrum, a borrower with a FICO score of 820 or better received a rate average of 8%.
Orchard receives profound data from online lenders so you know the numbers are solid. The complete report is available directly on the Orchard platform.

Sponsored Links by DQ Promote