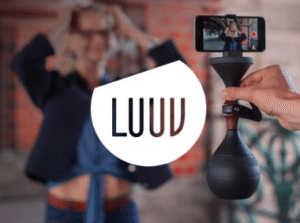 The Berlin-based startup LUUV is returning to the crowd after completing two successful crowdfunding campaigns on Indiegogo and Kickstarter which garnered over €360.000 in pre-orders to date, from more than 60 countries. solidLUUV was awarded with the "ISPO Product of the Year" Award 2015/2016. In addition, the jury of CES (Consumer Electronics Show) in Las Vegas honored ultraLUUV as a CES Innovation Awards Honoree, alongside established and renowned camera manufacturers like Ricoh and Canon.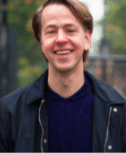 "During both of our crowdfunding campaigns on Indiegogo in Spring 2014 and on Kickstarter 2015, we managed to build up a highly engaged customer base and have been developing our products in close collaboration with our community since," commented LUUV Co-Founder and CMO Tobias Gerhardt via email. "This was particularly important during our first campaign at an earlier development stage back then as it really helped us in validating the potential of our product and, for example, in performing the switch of the production method from 3D-printing to injection molding. The second campaign on Kickstarter in this later stage of the development process was perfect to reach out to more diverse and different target groups."
Currently crowdinvesting campaign on Companisto, LUUV is looking for investors to help them extend their production capacities and set up international distribution structures.  To date the startup has raised over 84,304€ toward its 350,000€ funding goal with the confidence of 0ver 139 investors. LUUV is valued at 2,500,000€, according to Companisto.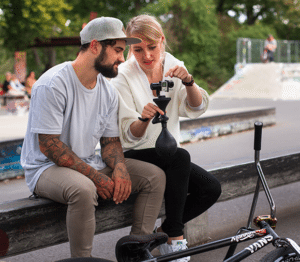 "On Companisto, being in close contact via email, comments, telephone calls etc. with our investors and the people who are intersted in investing in us is crucial for us," Gerhardt continued. "Of course, in this campaign, the majority of questions revolves around the development of the company LUUV from a holistic point of view on a very detailed level. Although only two of the campaign have passed so far, we are already benefitting not only from our investors' feedback but also from their networks and their personal contacts."
With the financial capital collected during the two crowdfunding campaigns on Indiegogo and Kickstarter, LUUV was able to develop the product and initialise the start of the production. The result: LUUV developed solidLUUV – the world's first All-In-One camera stabilizer. A mechanical stabilizer for action cameras, smartphones and compact digital cameras, which serves as a basis for product extensions. Thanks to this modular setup, solidLUUV can be extended with an electronic stabilization unit, creating ultraLUUV. This patent-pending innovation is an innovative novelty on the market.

Felix Kochbeck and his team are currently working on developing solidLUUV and ultraLUUV further to hold heavier DSLR cameras in the future. LUUV is on verge of entering the market and realizing its vision with innovative products. LUUV serves the niche between professional filming gear and the amateur filming market. Videos are booming! Every minute over 400 hours of footage worldwide are uploaded to YouTube and more than a half of Germans watch videos online regularly. Moreover, the recording quality of smartphones is constantly improving, with people attempting to eternalize precious moments with their action cameras. Felix Kochbeck and his team quickly realised that the gap between the number of cameras on the market and the quality of the footage is striking.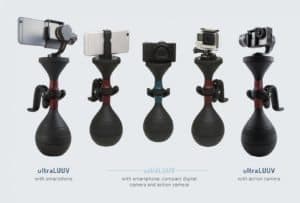 Thanks to its aerodynamic design and innovative features, solidLUUV enables users to capture high-quality and smooth footage with no background knowledge required. The patent-pending mechanism inside the stabilizer separates the movement of the hand from the camera. This makes the footage crisp and shake-free. Smartphones, action cameras or compact digital cameras can be mounted onto the water-proof and robust solidLUUV stabilizer. Using the Plug&Play feature, users may film almost instantly with little effort. solidLUUV stabilizer turns 180° and lets the user capture videos from excitingly new angles and dynamic perspectives. LUUV offers three compatible models in total: solidLLUV is the base model and can be easily extended to ultraLUUV by mounting the electronic stabilizing module, autoLUUV. LUUV's Companisto campaign ends on 26 May 2016.

Have a crowdfunding offering you'd like to share? Submit an offering for consideration using our Submit a Tip form and we may share it on our site!

Sponsored Links by DQ Promote