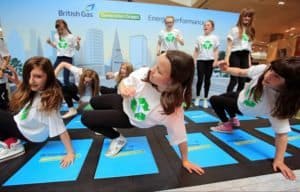 Joining in on Crowdcube's fifth birthday celebration, #FundedClub member Pavegen offered up some delicious cupcakes to the equity crowdfunding platform.
Last summer, the London start-up successfully secured over £2 million during its equity crowdfunding campaign on Crowdcube. The company's technology converts footsteps into electricity, making it possible to power services in high-footfall locations, as well as provide real-time data for analytics.
Founder and CEO of Pavegen took to his Twitter account today to share a snapshot of the baked goods:
The funding of £2m via @Crowdcube cube was key to helping us scale @Pavegen – minimum we could do was 100 cupcakes! https://t.co/2vNLaSfGfo

— Laurence KC (@LaurenceKC) February 11, 2016
Also sharing their appreciation for Pavegen's gift, the Crowdcube team tweeted:
A fantastic surprise birthday delivery direct from @Pavegen@laurencekc Thanks! pic.twitter.com/IN2zVk2OBf — Crowdcube (@Crowdcube) February 11, 2016
Lovely to get this birthday delivery from #FundedClub @LaurenceKC @Pavegen. Thanks guys! https://t.co/YpSLnndQvP

— Crowdcube (@Crowdcube) February 11, 2016
Earlier this week, co-founder of Crowdcube, Darren Westlake, stated:
"The past five years have been amazing. To think that we've created a world first in equity crowdfunding, forming a global company, employing 80 people with five offices is just incredible in what's a relatively short time. We owe it all to those who believed in us in those early days and of course, the team we've built."
The platform revealed a timeline of significant events and equity crowdfunding milestones.