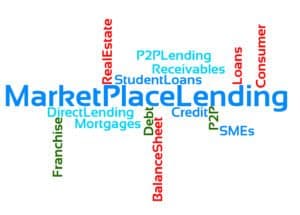 VPC Specialty Lending Investments PLC (LSE:VSL), a publicly traded fund that invests in online lending platforms and assets, continues to see a strong pipeline of investment opportunities within the online lending sector. This is according to VPCs most recent report. The investment manager of the fund is Victory Park Capital, a firm that has been engaged with alternative finance since 2010.
The company's five largest exposures are to the following platforms: Avant, Funding Circle, Prosper Marketplace, Upstart Holdings and Borro Group Holdings Limited.  VPC has exposure to 22 different platforms originating consumer and small business loans, in addition to companies supporting the specialty lending market, across the U.S., U.K., Europe and Australia.
As to performance of VPC, the loan portfolio is said to remain in line with expectations. The company said it delivered net asset value (NAV) returns of 0.33% on the ordinary shares and 0.36% on the C shares for the month of January and returns of 6.15% and 2.14%, respectively, inception to date.
On 29 January 2016, VPC declared an interim dividend of 2.00 pence per ordinary share and 1.07 pence per C share for the three month period to 31 December 2015. In addition, on the same day, the Company announced that it had substantially fully invested the initial C share proceeds and set the timing of the C share conversion. The calculation date of the conversion of shares is 31 January 2016.
As at 31 January 2015, consumer exposure accounted for 59% of the invested ordinary share portfolio and 71%of the invested C share portfolio, while small business exposure accounted for 41%and 29%of the ordinary and C share portfolio, respectively. Investments in U.S. Platforms accounted for 75% of the invested ordinary share portfolio and 73%of the invested C share portfolio, with the remainder being predominantly U.K.-based loans. As part of these investments, the Company has equity exposure to 15 Platforms through equity securities or convertible notes.