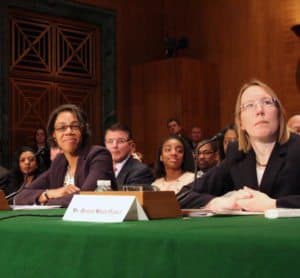 In a surprise turn of events, President Obama's choices to fill two vacancies at the Securities and Exchange Commission have been delayed by Senators Warren and Schumer.  Hester Peirce, a Republican, and Lisa Fairfax, a Democrat, were both expected to pass through the Senate Banking Committee yesterday having testified before the Committee last month.
Senator Schumer had previously attacked both appointees on the issue of requiring corporations to disclose political spending. Both Peirce and Fairfax pointed to a Congressional mandate that blocked the SEC on doing such disclosure Schumer demanded.
During the initial hearing Schumer threatened both appointees, each broadly viewed as highly qualified for the position at the SEC, stating; "right now I would be leaning against both your nominations given your answers."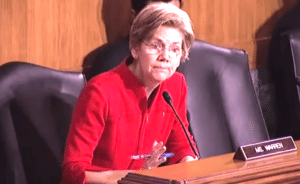 Senator Warren had hammered Peirce on her academic critique of Dodd-Frank. Warren had quoted Peirce describing parts of Dodd-Frank as "pointless". Peirce countered that her writings had advocated improving existing rules thus benefitting investor protection.
While the two Senators have temporarily placed the approval process in limbo expectations are for the two appointees to move forward at a later date. While it is atypical for Democrats to block appointments coming from the Obama administration the procedural grandstanding may be used to drive attention to select policy issues.  The stall tactic by the Senate Democrats may also be viewed as indicative of the heightened political divide between the two parties.