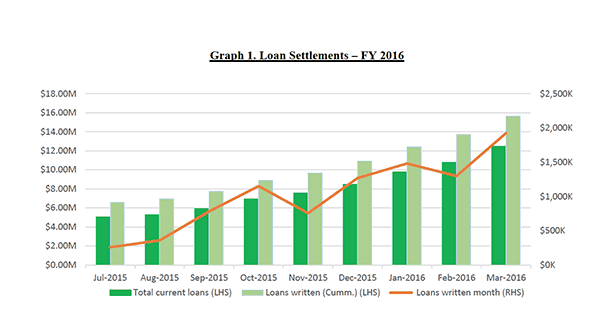 Australian marketplace lender, DirectMoney (ASX:DM1), announced last week that there has been significant growth in new loan originations this past quarter, which ended on March 31st.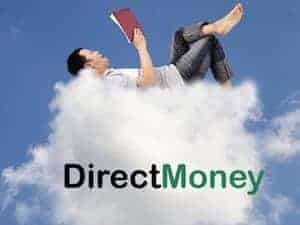 DirectMoney revealed during the quarter $4.71 million of loans to 219 borrowers were settled, a 48% increase on the prior quarter. March 2016 was a record month where $1.92 million of new loans were settled. The company has reportedly written $15.65 million of loans to 810 borrowers with an average interest rate of 12.7% since lending began in October 2014.
The company also noted that, as of March 31st, $12.5 million of current loans written by it to 689 borrowers were owned by parties including Macquarie Bank, the DirectMoney Personal Loan Fund and a undisclosed shareholder.
DirectMoney reportedly continues to manage loan approvals according to strict credit criteria. Four loans of the 431 loans written in FY 2016 have late payments exceeding 30 days. This represents less than 1% of the $9.3 million written.
CEO of Direct Money, Peter Beaumont commented:
"I am tremendously pleased to report that the DirectMoney team has delivered a record lending month in March 2016 and a ~50% uplift quarter on quarter. Both our direct and broker channels are performing, proven and expanding. DirectMoney's market visibility continues to grow both directly with consumers and through third party channels. The growth opportunity is best highlighted by the fact we have agreements with an initial ~350 accredited brokers out of ~4,500 brokers that are affiliated with our broker aggregator partners. Growing the number of brokers that originate DirectMoney loans is an ongoing focus for our team.

"The loan origination performance in the quarter augurs well for future origination volumes and DirectMoney's ongoing growth. While loan settlements are pleasing, volumes are still in their infancy. With the necessary infrastructure and technology platform now in place, our team is fully committed to realise our vision of establishing DirectMoney as Australia's leading marketplace lender."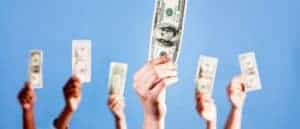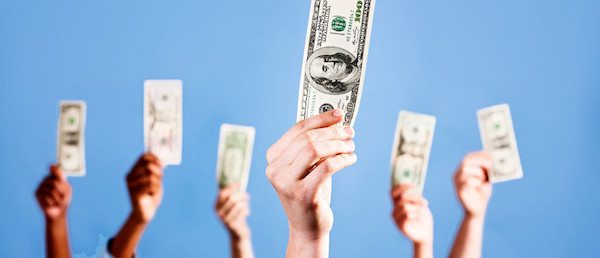 According to DirectMoney's previous quarterly report revealed it held $8.49 million in loans at the end of 2015 thus the agreement with Macquarie represents the bulk of existing loans. The company listed its shares on the ASX just last year in mid-July. The IPO priced out at $0.20/share. At the end of 2015, DirectMoney held $8.49 million in loans. The total aggregate value of all loans written since the platform started offering loans in October of 2014 is stated at $10.49 million. Total cash on hand at the end of Q2 stood at $3.314 million, a decline from the previous quarter when it stood at $6.747 million.

DirectMoney originates a significant portion of its loans via broker channels.  The lender says it has access to over 4500 brokers via its agreements with aggregators. It has also recently signed agreements with the Australian Financial Gropu and United Financial, adding to the list of established relationships with Finsure, Loan Market, Smartline and National Finance Choice.

Sponsored Links by DQ Promote