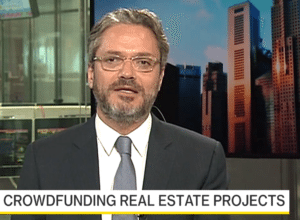 Rodrigo Niñ0, CEO of real estate crowdfunding platform Prodigy Network, recently spoke with Rishaad Salamat on Bloomberg's "Trending Business" segment. Prodigy has raised over $370 million from their network of 6200 investors (as posted on the video below).  Nino, speaking from Singapore, explains they currently have 5 projects underway in New York City and three projects in Colombia (where Niño is from).
Asked if he is looking to set up projects elsewhere, Nińo explains that, for now, they are focusing on the United States as there is a huge demand for these types of assets.  Currently, Prodigy Network lists investors from over 22 different countries.  Asked about anticipated returns on projects, Niñ0 states investors may expect north of 12% t0 14% IRR.
Prodigy recently revealed a good exit for some of their early investors where they received a return of more than 20% in one of their Manhattan projects.
See the video below.