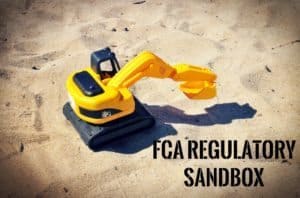 The Financial Conduct Authority (FCA) is accepting applications now for its newly minted regulatory Sandbox.  Applicants have until July 8th to sign up for a chance to be part of a regulatory "safe space" to experiment and challenge existing financial norms. Christopher Woolard, FCA Directory of Competition and Strategy, explained the concept last month in a speech stating;
"The key question for [the FCA] was how does a regulator create a sandbox that gives industry the freedom to break new ground and encourage creative solutions when there is a limited public appetite to accept business failure if things go wrong, particularly in financial services?

To answer this question, we have had to tackle 2 main challenges:
the first one is how do we deliver a sandbox that lowers barriers to testing within the existing regulatory framework

the second, how do we ensure that risks from testing novel solutions are not transferred from firms to consumers"
The UK has created something unique in the regulatory world. By not only embracing change but also fostering it by making it easier for innovative firms to challenge well-established practices and processes, the government agency has become a vital variable in Fintech disruption.
The concept has created a buzz across the Atlantic too.  Disruptive Fintech firms on both coasts are talking about the FCA Sandbox.  There is also chatter on Capitol Hill that legislators may be interested in creating a similar approach in the US.
The FCA Sandbox will operate a bit like an accelerator program.  Woolard expects "a high degree of bespoke engagement from our staff, so we will only be able to work with a small number of firms at a time."
The UK has created a vibrant ecosystem for Fintech innovation. It is home to the first peer-to-peer lending platform (marketplace lending) and has trailblazed the path for investment crowdfunding sites to follow the world over. In fact, a report this past February published by HM Treasury in partnership with EY, declared the UK as the global hotspot for Fintech innovation. One of the most important competitive advantages was the policy environment and the most supportive regulatory regime.
Successful applicants for the Sandbox will receive restricted authorization that allows them to test their ideas. These firms will still need to apply for authorisation and meet threshold conditions, but only for the limited purposes of the sandbox test. The FCA intends on publishing any results, on a case by case basis, that may be uncovered.