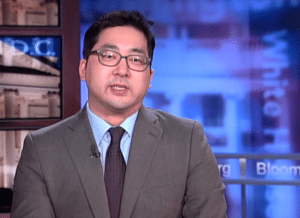 Youngro Lee, CEO and co-founder of NextSeed, visited with Bloomberg this week to talk about his platform launching under the Title III / Reg CF rules. Asked if the new rules will be a "game-changer", Lee states, "I think it can be."
NextSeed has been operating as an intrastate platform in Texas since last year. Texas is one of the many states that enacted rules to facilitate internet finance beyond the federal exemptions. NextSeed was the first  investment crowdfunding platform to launch under the state exemptions in 2015.
An interesting point is that NextSeed only offers debt securities. While many people think that crowdfunding is only about equity many industry insiders believe lending will become around 50% of the overall Reg CF industry.  And why is that? It is pretty tough to get a small business bank loan. NextSeed wants to "address one of the fundamental needs of the US economy."
"Small businesses have a financing need. They can't get bank loans and if you can't get bank loans your options are frankly not good. What we are trying to do is connect the small businesses with people who are around that community who can believe in it, who can invest in it and build the community together."
Watch the video below.