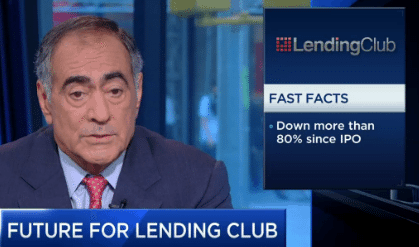 John Mack, a bit of a legend in the banking world who garnered the nick-named Mack the Nice (in contrast to some other less savory nicknames for other iBankers), visited the studios of CNBC this morning to discuss a broad range of topics.  Mack is former CEO of Morgan Stanley along with several other C level positions. One of the questions Mack fielded was his thoughts on Lending Club – where he happens to be a Member of the Board.  Mack was asked if he was "still a believer" in this new type of lending.
Mack promptly stated he would not discuss Lending Club because they are going through "a lot of analysis and we haven't finished our work" and then he quickly migrated over to discussing the broader sector of Marketplace Lending.
According to Mack, "Fintech is going to change the business. There is no question about it." Mack said whether you are buying a car, getting a loan, buying a mortgage all of that is going to change. "We already see it and I think it is going to continue."  Mack drew a parallel to Robo-Advisors that charge a fee of about 25 basis points. Traditional financial advisor services will charge 2% to 3%.
Asked about online lending in a rising interest rate environment and more loans start defaulting.  Mack pointed to the obvious. Marketplace Lenders raise their rates to match the rise and accommodate an increase in risk.
"Technology blows me away"
Asked if he plans on staying on the Board of Lending Club. Mack said, "I do. Absolutely."

Asked if former CEO and Lending Club founder Renaud Laplanche is an "honest guy".  Mack declined to answer.

You can watch the CNBC Pro video here.

Sponsored Links by DQ Promote