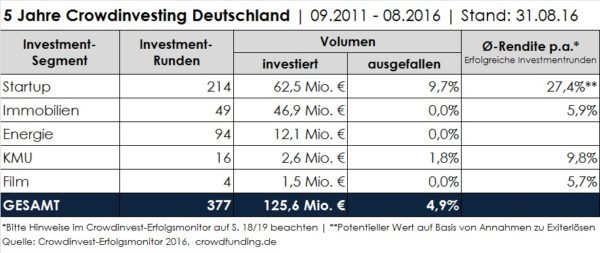 ---
Berlin-based Crowdfunding.de has published a report on the equity crowdfunding market in Germany.  Their numbers go back to 2011, the very beginning of this new form of finance in Germany. The Crowd Invest Success Monitor is an overview of the performance of the new asset class while differentiating between five different subsectors including: Startups, Real Estate, Energy, Film and KMU (SME). According to the report, during the past five years, crowd investments registered a total 377 individual investment rounds with a total volume of € 125.6 million.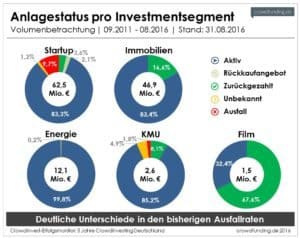 The report states:
84% of the invested capital is still "active" so it is too early for a final conclusion
There are already significant differences between investing segments (startups, real-estate, energy, SME, film)
startups have the highest default rate, but successful startups deliver the highest rate of returns
Startups registered €62.5 million in funding
Real estate came in second at €46.9 million funding
31 issuers have failed
14 issuer statuses are "unknown"
The publication notes that it is too early to draw any final conclusions regarding the asset class.
The report, in German, is embedded below.
[scribd id=323717067 key=key-dhkqst7is2HaNUsVd7Ek mode=scroll]