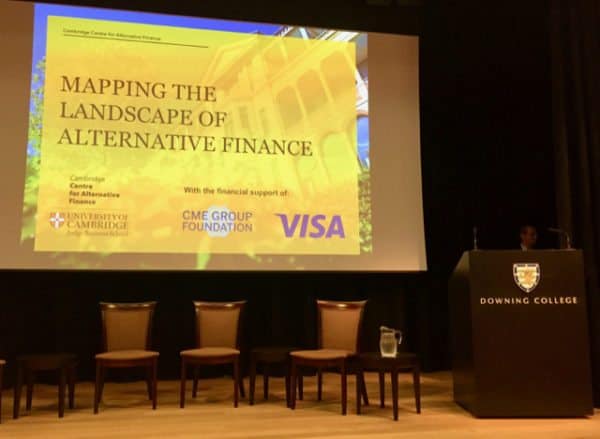 The Cambridge Centre for Alternative Finance (CCAF) held its inaugural conference at Cambridge University this past week engaging in a wide range of topics covering the world of alternative finance. A distinguished cadre of policy makers, platform operators, and academicians descended upon Downing College to discuss the future of finance.
The UK has been a notable center of Fintech innovation, starting first in the peer-to-peer lending /crowdfunding sectors and since branching out into a far greater universe of disruptive finance. The evolving ecosystem has benefited by a government that is supportive of entrepreneurship combined with a relatively light touch regulatory approach by policy makers. A good indication of this unique environment is the announcement this past week that the CCAF will be partnering with the UK Financial Conduct Authority (FCA) on their ongoing review of alternative finance utilization and regulation.
The CCAF conference opened with a dinner welcoming the international attendees followed by day-long event packed with presentations by global financial experts – including representatives from the Bank of England and the US Securities and Exchange Commission.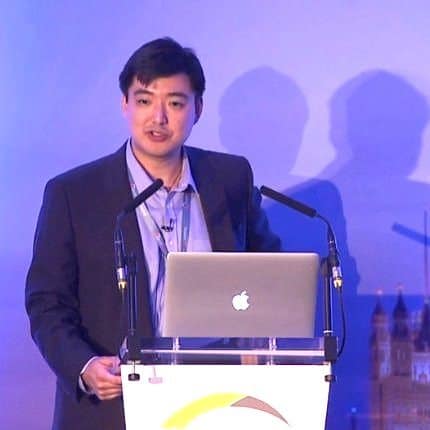 Bryan Zhang, co-founder and a director of CCAF, told Crowdfund Insider that collaboration was key to the CCAF's rapid success;
"The CCAF remains a small academic centre and we are humbled by the positive feedback on our work and the impact we are able to make," stated Zhang. "We simply cannot carry out a global alternative finance research agenda in the last 12 months without the support and help from our research collaborators (e.g. Chicago Booth School of Business, Tsinghua University, Sydney Business School and Nesta), our many industry partners around the world including the Crowdfund Insider and our financial supporters such as the CME Group Foundation, KPMG, ACCA and the Inter-American Development Bank.

As researchers, we are also extremely grateful for the cooperation and trust that given to us by around 1,200 crowdfunding, peer-to-peer lending platforms in over 90 countries. The Centre cannot exist or function without engaging in collaborations and forging partnerships."
Zhang also commented on the FCA/CCAF partnership – an announcement first shared at the CCAF conference;
"Ongoing structural changes in the provision of finance demand new and innovative approaches in policy-making and regulation. The FCA is known for its forward-thinking and collaborative outlook when it comes to alternative finance and FinTech. It launched Project Innovate back in 2014 and recently opened its new regulatory sandbox. This new joint FCA-CCAF thought leadership programme is a continuation of that innovative regulatory approach."
Zhang stated they very much look forward to working with the FCA team in the coming months as they gather and analyse data on crowdfunding, peer to peer lending and more, as part of the evidence-based regulatory review.
Zhang predicted the CCAF would be expanding its portfolio of research as disruptive finance expands into other sectors of the industry;
"Besides our annual regional benchmarking activities, the CCAF is also branching out to research other aspects of alternative finance, including alternative credit analytics and alternative payment systems. For instance, we will launch imminently a global cryptocurrencies and blockchain study. We are also eager to keep engaging with policy-makers and regulators around the world in developing a better and comparative understanding of cross-regional regulatory frameworks in alternative finance and FinTech."
The FCA is expected to announce in coming months whether further regulatory changes are required for UK crowdfunding industry.  As part of the review process, the FCA has published a document as a point of discussion.  The final FCA analysis, with the participation of the CCAF, should help guide the alternative finance industry in the UK for years to come.
A photo gallery of CCAF 2016 is embedded below.
---
[new_royalslider id="33″]

Sponsored Links by DQ Promote