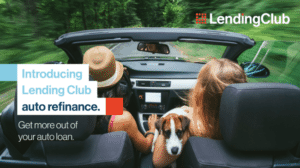 The largest US marketplace lending platform Lending Club (NYSE:LC) introduced a new vertical on October 25th.  Lending Club will now offer individuals the option to refinance their existing auto loans and potentially save a good amount of money.  While only available to residents of California today, the online lender will roll out the offer across the country over the coming weeks.  On the same day of the announcement, Scott Sanborn, CEO of Lending Club, delivered a presentation introducing the auto loan feature while providing a high-level update on the status of Lending Club. The upbeat deck pointed towards platform progress in the face of a challenging year. On one of the slides, Lending Club itemized their four verticals today:
Personal Loans
Patient Finance
Small Business
Auto
There were two blank areas next to these business sectors leaving us to wonder what else is in the pipeline. Could mortgages be next?
Lending Club will announce Q3 results on November 7th at 8AM ET. Perhaps we will learn more at that time.
[scribd id=329344941 key=key-MpgzzPlRZcanEIpOuFd2 mode=scroll]