On Tuesday, Kickstarter announced the launch of its new live video and real-time community engagement feature, Kickstarter Live. The funding portal revealed the feature was built in collaboration with Vancouver-based startup Huzza, and a select few creators have been beta testing Kickstarter Live over the past few months.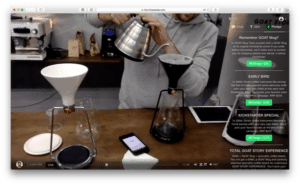 Notably, Kickstarter Live has been used for various projects, including broadcast cooking shows, live product demos, singing performances, game testing, and even counting down the seconds of campaigns. The platform explained:
"Over the years Kickstarter has become known as a powerful and unique way to bring creative projects to life. It encourages radical transparency in the creative process, a generous spirit of community, and independent creative expression. Kickstarter Live takes all of that even further. We can't wait to see how you use it. The key to Kickstarter Live is its intimacy. It brings creators and the people supporting them right into the same room together. And it encourages personal connection. Viewers can ask questions, chat, send selfies, select rewards, and back the project — all while tuned in."
The crowdfunding website also added it plans to develop Kickstarter Live further.