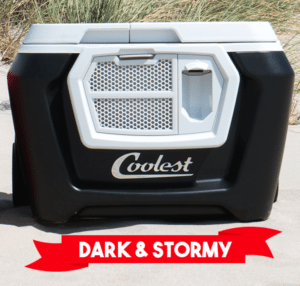 Coolest Cooler, the 2nd most funded Kickstarter campaign of all time at $13.29 million, continues to chug along and deliver Coolers around the world. The Kickstarter pre-sale project launched in 2014 with an expected delivery date to early backers of the "21st Century Cooler" in February of 2015. Two years later, many backers have yet received their Cooler at the committed price. Meanwhile, Coolest Coolers are available for immediate delivery on Amazon or the Coolest Cooler website.  Before Christmas there was a period where Coolers could be purchased for a lower price than the Kickstarter project.
Creator Ryan Grepper has serialized his achievements and challenges throughout the process of raising millions of dollars and then struggling to manufacture and ship over 60,000 Coolest Coolers. This week, Grepper provided another update for his Kickstarter backers.
The good news is, Coolest is still in business and Coolers are ever-so-slowly shipping out.
"We enter this year with a smaller, leaner team here at Coolest. But our mission remains the same: We're focused on building the business so that we can generate the revenue needed to get every remaining Backer their Coolest Reward. This isn't going to be easy, and it won't happen overnight, but every day that our doors are open gets us one step closer to that goal."
The not-so-good news is there are many supporters on the list who have waited years to receive a Coolest Cooler.  Seeing the product up for sale on Amazon probably makes them wish they had never backed the project at all.
The comments on the Kickstarter page range from anger to frustration to support. Some want their Cooler, others want a refund, my guess is the bulk of people have just moved on.
The truth of the matter is that backing a rewards-based crowdfunding campaign is not like a trip to the mall. More donation than purchase, too many products never ship at all.  So Coolest remains a cautionary note for backers that perceive Kickstarter as a store. It's not. While many commenters continue to disparage Grepper for not delivering their Cooler, you have to give the guy credit for not giving up.
Have a crowdfunding offering you'd like to share? Submit an offering for consideration using our Submit a Tip form and we may share it on our site!