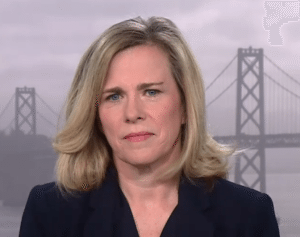 SoFi Chief Operating Officer Joanne Bradford was back visiting with CNBC today. Bradford addressed several topics including the recent cyber attack that has public and private entities running for cover around the world. SoFi has not been impacted by the digital attack and Bradford was quite confident that SoFi is better prepared for any malicious attempts to infiltrate SoFi due to their single point of access (unlike traditional banks).
"We have not had any issues to date," affirmed Bradford. "We are hoping to keep it that way going forward."
Asked if the Fintech industry is more, or less, vulnerable than traditional types, Bradford explained;
"We are less vulnerable. You only come to SoFi at SoFi.com. We don't have branches which helps make it more efficient. Less points of vulnerability…but for the consumer it is more about speed and ease of use. Getting things done quickly on your mobile device."
Perhaps a more interesting question was regarding SoFi's interest in not wanting to become a bank.  Especially in light of SoFi's acquisition of the digital only bank, Zenbanx as now they will be able to offer checking, savings, credit card services… effectively becoming more like a bank.
"We will get to a place where will take deposits. We are pursuing a couple of different avenues right now. We have talked about applying for a bank license … you need someplace where to put your paycheck and we will have that eventually … We will be the first unbank – bank."
Bradford also shared they had a record quarter last quarter and their mortgage business is "on a tear". She added, "we don't see an impediment to growth for a long time."

Watch the CNBC video below.

Sponsored Links by DQ Promote