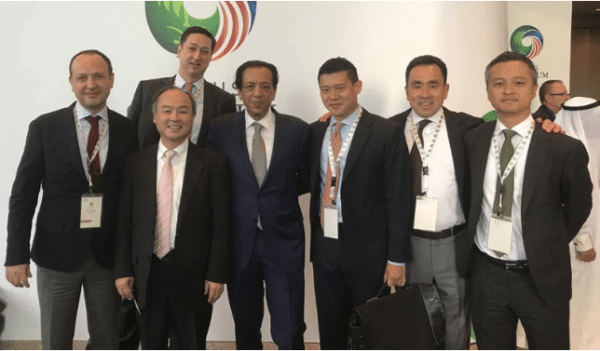 The SoftBank Vision Fund announced its first major close yesterday with over U.S. $93 billion of committed capital.
In addition to SoftBank Group Corp (SBG) and the Public Investment Fund of the Kingdom of Saudi Arabia as previously announced, investors also include the Mubadala Investment Company of the United Arab Emirates, Apple Inc., Foxconn Technology Group, Qualcomm Incorporated and Sharp Corporation. The Fund is targeting a total of U.S. $100 billion of committed capital, with a final close within six months.
SBG created the SoftBank Vision Fund because of a strongly held belief that the next stage of the Information Revolution is underway, and building the businesses that will make this possible will require unprecedented large scale long-term investment.
The Fund will be SBG's primary vehicle to realise its SoftBank 2.0 vision, with preferred access to investments of U.S. $100 million or more that meet the Fund's investment strategy.
"Technology has the potential to address the biggest challenges and risks facing humanity today. The businesses working to solve these problems will require patient long-term capital and visionary strategic investment partners with the resources to nurture their success. SoftBank has long made bold investments in transformative technologies and supported disruptive entrepreneurs," said Masayoshi Son, Chairman & CEO of SoftBank Group. "The SoftBank Vision Fund is consistent with this strategy and will help build and grow businesses creating the foundational platforms of the next stage of the Information Revolution."
The Fund will target long-term investments in companies and foundational platform businesses that seek to enable the next age of innovation via both majority or minority stakes.

The Fund said it will be active across a wide range of technology sectors, including but not limited to: IoT, artificial intelligence, robotics, mobile applications and computing, communications infrastructure and telecoms, computational biology and other data-driven business models, cloud technologies and software, consumer internet businesses and financial technology (Fintech).

The Fund will have the right to acquire certain investments already acquired (or agreed to be acquired) by the SoftBank Group, including 24.99% of its holding in ARM, and investments in Guardant Health, Intelsat, NVIDIA, OneWeb and SoFi.

The Fund will be advised by wholly-owned subsidiaries of SBG, known collectively as "SB Investment Advisers".

Rajeev Misra will serve as the CEO of SB Investment Advisers and will be a member of the Investment Committee. He will play a key role in all Fund transactions, supported by a highly- experienced global team across offices in London, San Carlos, and Tokyo.

Nizar Al-Bassam and Dalinc Ariburnu of newly formed Centricus, who advised on structuring and fund raising efforts for the Vision Fund, will continue their roles as advisers.

Sponsored Links by DQ Promote