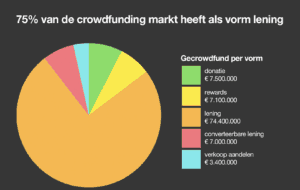 A report by Dutch crowdfunding agency Douw & Koren is reporting that crowdfunding is once again on the rise in the Netherlands. Following a challenging 2016 during which sector growth stagnating, during the first 6 months of 2017 crowdfunding is seeing renewed momentum.
According to the report, in the Netherlands during first half of the year total raised hit €99.4 million. This is an aggregate figure that encompasses This enabled 2,335 companies, social and creative projects. In comparison to 2016, the first half of last year totaled €86 million and in the second half of 2016 this number slowed to €84 million. The report encompasses both donations/rewards as well as investments.
The same write up says that platforms that report their net returns according to the Dutch Federation of Crowdfunding are making average positive returns.
Debt based crowdfunding (peer to peer lending, marketplace lending) constitutes the vast majority of the market – just like most of the rest of the world.
During the first 6 months of 2017 the breakdown is as follows:
Donations based – €7.5 million
Rewards based – €7.1 million
Lending – €74.4 million
Convertible loans – €7 million
Equity – €3.4 million
The net return on loans on average stands at 3.8% to 7.8%. The default rate ranges from 0% to 2.71%. The range is contingent upon the platform.

Of course the industry is still quite young and changing rapidly. You may see the Douw & Koren numbers here (in Dutch).

Sponsored Links by DQ Promote