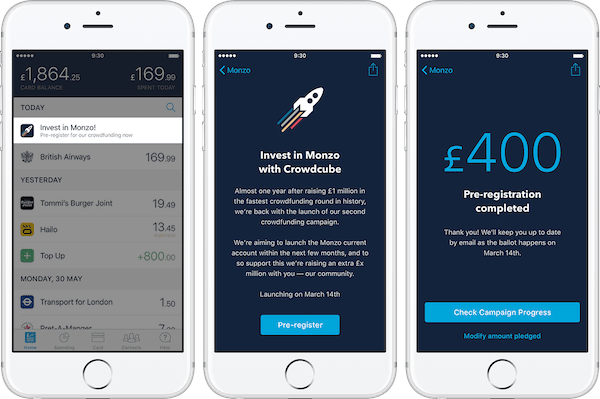 On Monday, challenger bank Monzo announced it has begun to roll out current accounts to customers. This news comes just a few months after the company received its full UK banking license. 
"Back in April, when we received our full UK banking license we explained that we would be taking the process of rolling out current accounts very slowly to provide the best possible experience for our customers. We've been using the Monzo current account internally and today we're ready to invite some of our customers to join us and help put it through its paces. This is the very beginning, and we will be taking things slowly. Our aim is to offer a current account to all existing customers by the end of the year.Towards that goal, over the next three months we'd like to rollout between 10,000 and 20,000 current accounts to existing customers. Once we're happy they're working as expected, we'll offer accounts to everyone else as quickly as possible in the months after that."
Featured in the current accounts are the following:
Sort code and account number: Anybody can send money and customers can receive their salary directly into your Monzo account
Faster Payments: Customers can send money to any other UK bank account with a sort code and account number — it will arrive within two hours but most payments only take a few seconds
Direct Debits: Customers can pay regular bills like rent, utilities, and phone contracts
Standing Orders: Customers can set up regular payments out of their account for things like rent payments
Mastercard debit card: Customers can spend anywhere that accepts Mastercard around the world, with a direct connection in to Mastercard
FSCS protection: Up to a total of £85,000 eligible funds
The bank also revealed its working on some parts of the account, which are:
Topping up customers' account by debit card, Apple Pay and Android Pay will not be available.

Monzo.me does not work.

Customer support through the in-app chat will initially only be available from 9am–6pm on weekdays when more people are available to help diagnose and fix issues. 

iOS only to begin with (the Android app is approximately a couple of months behind but will catch up before Monzo's fully launch).

The debit card customers receive initially with the current account will need to be replaced at some point later this year with an updated version.

Customers will download a separate Monzo app for the current account and your existing prepaid card will continue to work like normal. In the future, you'll be able to use just one app and close your prepaid account.
Monzo asked its customers to not contact support in an effort to get their current account sooner. The bank also offered customers a way to see its current account status.

Sponsored Links by DQ Promote