Republic, an investment crowdfunding platform founded by AngelList alumni, is collaborating with Sony Entertainment on a new series of pitch events involving the Draper family. And who are the Drapers, you may ask?
The Drapers are California based VC's with a pretty amazing track record. It all started back in 1959 when William H. Draper Jr created one of the first venture capital firms on the west coast. Based in Silicon Valley, Draper, Gaither & Anderson was the seed that launched a family business that is now boasts four generations of VCs.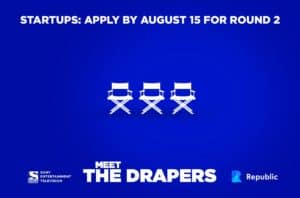 Meet the Drapers will include the participation of Bill Draper, who was a founding investor in Hotmail, Skype, OpenTable, and much more and his son Tim Draper, who was a founding investor in Baidu, Tesla Motors, Skype and many others. The two senior Drapers will be joined by Jesse Draper who was the creator and host of 2015 Emmy nominated television series, "The Valley Girl Show". She is a founding partner of Halogen Ventures, focused on early stage investing in female founded companies. The three Drapers, along with a mystery judge will listen to three startups pitch to 3 generations of the Drapers. Of course a successful pitch could mean the backing and financial support of one or all members of the Draper family. Kind of like a modern spin on the popular Shark Tank, but with a family twist. I must also note that Time Draper has been exceptionally supportive of all things Fintech including crowdfunding and all forms of alternative finance.
Additionally, some of the startups pitching before the Draper clan will at some point list their offers on Republic so everyone can invest alongside this VC family.
So you can watch along and root for your favorites or, if you are #startupstrong, you can submit your startups name to potentially pitch before Bill, Tim and Jesse. You need to apply by August 15. Best of luck to all.
[clickToTweet tweet="if you're #startupstrong you can submit your startups name to potentially pitch before Bill, Tim & Jesse Draper" quote="if you're #startupstrong you can submit your startups name to potentially pitch before Bill, Tim & Jesse Draper"]