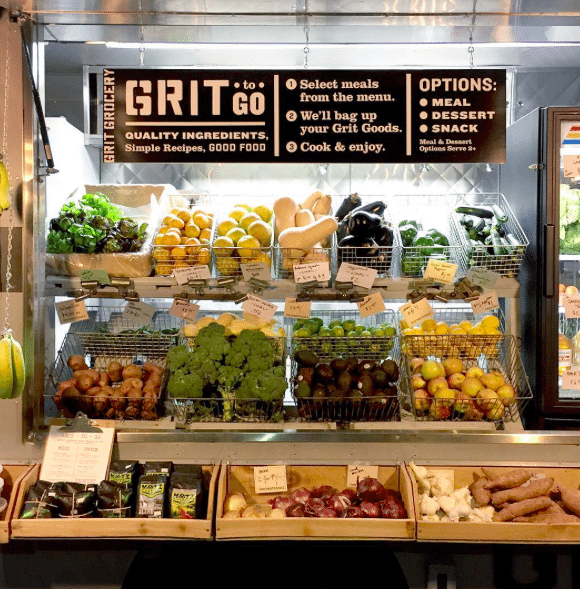 Houston-based mobile grocer Grit Grocery has tapped into the Wefunder crowd for funds needed to assemble a fleet of mobile Grit Grocery markets that will make eating healthy easier for people across the US. Seeking to raise a minimum of $150K toward a $1M goal, $5M valued Grit Grocery has secured over $33,890 from more than 30 investors since its recent launch.
Why go Grit?
"Healthy is Hard. Processed foods have dominated traditional supermarkets, and the grocery shopping process has become miserable and time consuming," shared Grit Grocery CEO Dustin Windham. "Grit Grocery's mobile markets make cooking healthy, easy, and fun by bringing smart food options and nutritious meal kit bundles from local farmers and producers, straight to your neighborhood. With a 67% customer retention rate, our customers agree that we've stumbled upon a revolutionary solution."
[clickToTweet tweet="#Houston @gritgrocery delivers local, organic foods @wefunder" quote="Go Local: Grit Grocery Brings the Best of the Farm to your Block"]
Grocery shopping outside the US looks and is very different; one can easily walk and access neighborhood bakers, butchers, fruit stands selling seasonal options, flower shops and bodegas within moments. Tapping into this ideal with an aim to build stronger community bonds and reconnection with their food, Grit Grocery plans to brings 25 trucks into 50 neighborhoods throughout Houston. To date the startup has posted $50,000 revenue from 1,457 transactions in 6 months.
"We're raising $550,000. This will get us ten trucks, some working capital, and money to develop a mobile app or chat bot. The mobile app will allow us to easily communicate truck locations. When we have one truck, it's not as big a deal. But when you have ten trucks, it's more important to be able to communicate with people on the fly. Although we're in the same locations consistently, sometimes there's inclement weather or maybe a truck broke down or we're running late," added Windham. "Also, it's good to make it possible for people to pre-order meal bundles before they come by the truck. The third piece of the mobile app would make it easier to cook a meal together in your home with friends. If you're hosting a meal at home, one of the challenges is finding out what you're going to cook. The meal bundle solves that problem with a recipe, but the app will facilitate splitting up responsibilities of who does what so that all of the burden isn't on the host. People will get a chance to interact and participate in the cooking experience. This piece of the app can be rolled out in other areas and help us achieve scale going forward when we're moving into a new market."
What else is on the trucks?  A variety of seasonal produce, proteins such as wild caught gulf fish and shrimp, local pasture raised pork & chicken,  raw & roasted nuts, freshly baked breads, dairy products, dry goods including beans, lentils, rice, oats and popcorn, snacks, sweets, fresh pastas, and drinks including coffee, tea and fresh orange juice.  In short, the local farmer's market is conveniently delivered to customers.
Grit Grocery is focusing on Houston neighborhoods with higher density and foot traffic.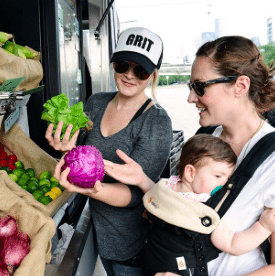 "We ran tests at a lot of mid-rise apartment complexes with 200 to 300 units surrounded by townhomes or single-family homes. In Houston, there's some low-hanging fruit in that the city is growing rapidly and grocery infrastructure hasn't caught up. There are areas like downtown and east downtown that are food deserts but where the demographics are high resource. That's where we started. We knew we wanted to be in town. We want to have some density, we want young professionals and people starting families," explained Windham. "Empty nesters are another good demographic. We worked with Rice University GIS and did a heat map to find out where people are buying natural and organic groceries. Then we did an algorithm to predict where we should go. Ultimately, what we learned is that with this model there's instant feedback, so we can test a location for two or three nights with limited investment and immediately know if it's going to work or not. If it doesn't work, then we just move to a new location."
Investor perks include the styling' Grit trucker hat, invitations to Grit sponsored events, weekly meal bundle vouchers, a strategic planning session and naming a neighborhood truck.  $250 is the minimum investment.  For more campaign details, click here.
Have a crowdfunding offering you'd like to share? Submit an offering for consideration using our Submit a Tip form and we may share it on our site!