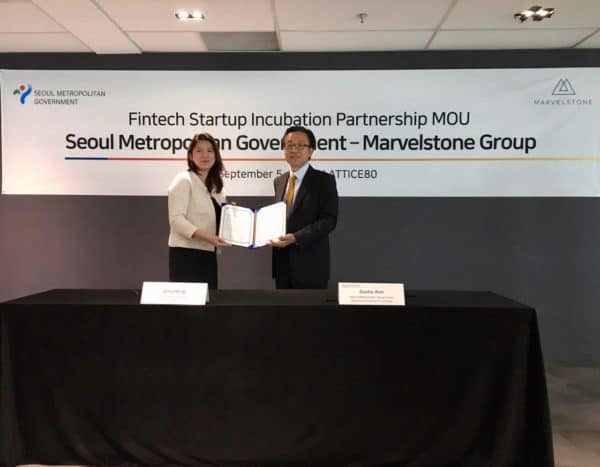 Marvelstone Group, the creators of LATTICE80 in Singapore, has signed a memorandum of understanding (MOU) with the Seoul Metropolitan Government to partner on Fintech. Earlier today, a signing event took place at LATTICE80 where representatives of Marvelstone Group joined with representatives from South Korea including the Korean Financial Services Commission to formally sign the agreement.
The collaboration between Singapore and Korea is said to span investment, opening of a Fintech hub and  joining as a partner in the upcoming Government-backed Fintech Incubation Centre in Seoul – and more. The Seoul government has pledged to support Marvelstone Group in the opening of a new location in the city's startup district.
"We are excited to partner with Seoul Metropolitan Government on this initiative," commented Gina Heng, CEO of Marvelstone Group. "We see many synergies and areas of opportunity between what Marvelstone Group is trying to achieve – with our not-for-profit hub LATTICE80 – and the way Seoul is making tremendous efforts to innovate in Fintech."
Daeho Kim, Director of Investment Promotion of Seoul Metropolitan Government, said that Marvelstone Group has been very successful in building a Fintech ecosystem in Singapore.
"I hope that through this MOU we can work together to grow Seoul's potential in Fintech, while at the same time offering a huge opportunity for Marvelstone's business, not just in terms of opening more Fintech centres but across all its initiatives in the new digital economy."
LATTICE80 is the largest Fintech hub in the world. Management recently opened a center in London and expects to announce additional locations in the near future.