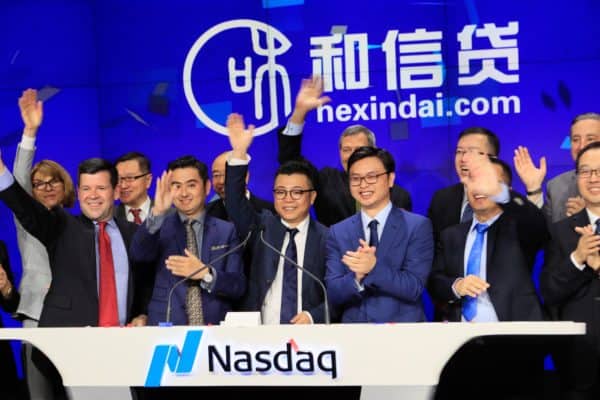 Hexindai (NASDAQ:HX), a China based peer to peer lender, became the most recent Chinese online lender to trade on a US exchange early last month. The company will report fiscal year results this coming Tuesday before markets open. The  online lender listed their shares on the US markets in an IPO that raised approximately $50 million with each ADS priced at $10/each. The market cap of Hexindai stands at over $550 million today with shares in the company having traded between $10.90 and $17 since the IPO.
Founded in 2014, Hexindai is a fast-growing consumer lender that services the emerging middle class in China. A typical borrower seeks between RMB20 – 140,000 for personal uses such as home improvement, education or larger personal purchase. The typical duration of a loan is 3  years and is paid in monthly installments of both Interest and principle. In three years, total loan originations have topped RMB 9.7 billion (USD $1.46 billion). As with most other large online lenders in China, the loans are true peer to peer as smaller investors are committing their capital for individuals seeking credit. The online lending platform benefits from an extensive offline network and risk is mitigated to a certain degree by the company's relationships with a custodian bank and an insurance company.
The Chinese peer to peer lending market has been going through a period of transition as increasing regulatory scrutiny has helped to shutter less reputable online lenders while slowing sector growth. Well established online lenders are well positioned to benefit from a market that is in need of credit with traditional banks ill-positioned to supply demand.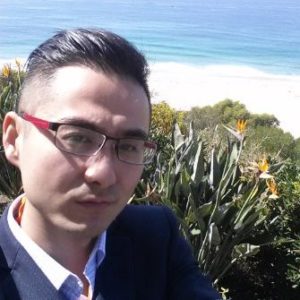 A few days after Hexindai's IPO, Crowdfund Insider spoke with Johnson Zhang, the CFO of Hexindai.  We asked Zhang why his company decided to list on the NASDAQ.  Zhang explained that in comparison to Hong Kong the US capital markets is wider and has more comparitive companies. Zhang noted that Yirendai and other online lenders now trade on US exchanges.  NASDAQ was selected because Hexindai is more tech focused. 
"We are a tech company with a financial lending business. We belonged with more tech listed companies on the NASDAQ instead of NYSE," said Zhang.
Zhange said the process on NASDAQ was very smooth. They submitted their first confidential filing in April of this year. Afterwards, they answered comments from SEC and filed another quarters financial performance and another round of comments from SEC. He described it as a very standard process. They cleared all of the SEC comments at the end of September.
We asked Zhang to describe Hexindai's competitive advantage against the older, more established P2P lenders.
"First of all, we are positioning ourself in the mid level. We have differentiated ourselves from the Payday loan business. They are short term and small amounts. We do not do any Payday loans. We are servicing the emerging middle class who have a stable income. All of our borrowers have a credit card. We can manage our risk quite well," added Zhang.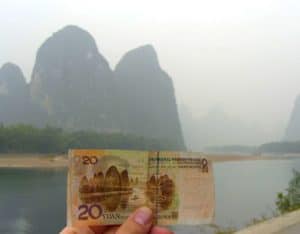 Zhang said a key component of their competitive advantage is their sophisticated risk management. They are leveraging a risk rannking system and anti fraud solutions developed by TPD.  Hexindai is very conservative and prudent in the approval of borrowers applications. Their application pass through rate is equal to just 25% of submitted applications and their default rates are very low. Insurance companies are waiting to provide loan credit insurance and ready to provide insurance to any of our borrowers, said Zhang.
Their second competitive advantage is their extended off line channels. They have established cooperation with various services that may require credit. For example, if a customer goes to a travel agency and wants to book a trip, the agency may say they have a financing solution and will provide the application to Hexindai and then they will determine whether or not they should provide a loan to the borrower.
We asked Zhang if they are currently 100% peer to peer and if they will stay that way and he confirmed this is the case.
"For our last fiscal year there were 200,000 borrowers and 110,000 active investors. An average loan size is 80,000 RMB. The typical use of the loans are for personal use like overseas traveling, continuing education or housing renovation. We believe loan proceeds are for self investment. Their life. For their job to become better. We help the emerging middle class."
And what about the increasing government scrutiny being directed at P2P lenders? Several weeks ago, the People's Bank of China governor, Zhou Xiaochuan, called for "both pre-emptive measures and reactive solutions" to curb systemic financial risks affiliated with Chinese online lenders.
Zhang explained;
"Those government policies are focusing more on the Payday loan market. They are targeting the lower levels and the [less affluent] population. They charge [these borrowers] a very high APR.  There are a lot of societal issues in the Payday market.  Many of the people cannot pay back these loans. The government will [further] regulate the Payday loan market.  All of our APRs are below 36% which is the legal protective APR that can be charged to the borrower side."
Peer to peer regulatory guidance was published last year. Zhang said that all of the P2P platforms will adhere to the guidance by next August. Approximatly 80% of the platforms will be terminated in this market. Zhang said his company was "very happy the government is regulating their segment."
"Companies such as us are fully compliant and we will be able to take advantage of this segment. The borrowers will be concentrated to the top layers."
Will Hexindai provide additional services as some other Chinese lenders have? Or will Hexindai remain siloed in P2P consumer lending?
"We are still focusing on P2P consumer lending. We will extend our borrowers to a wider geography [in China]. We will also extend our borrowers from other verticals.  We will cooperate with more planners. We will extend into auto leasing market.  We will provide auto leasing consumer loans in that way you can purchase or lease a car. This is a very big potential market. The car leasing penetration rate in China is just 7%. In the US it is over 45% so this is a big opportunity."
Hexindai does not have physical retail locations but by partnering with other businesses they have been able to extend their brand and expand their services. Most of the Hexindai investors and borrowers have used mobile devices to transact on their platform. Last year, over 70% of investors transacted via a mobile device. While the balance is through a personal computer. For this fiscal year, the percentage of investors on mobile devices has increased.
So what is next on for Hexindai?
"We believe for the the next 1 to 2 years we will continue to expand in the China market. The geography means we will expand into the Tier 2 to Tier 3 cities in China."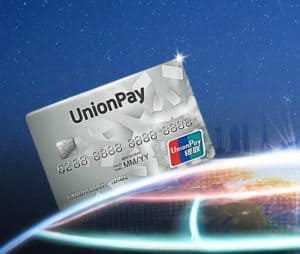 Zhang emphasized that Hexindai is a pure information platform that differentiates themselves further with insurance and a default rate that does not impact their balance sheet at all. He said they are the only partner with Tenai Union Pay Quick Pass. This is a mobile payment technology that competes with Alipay. Any investors on Hexindai can use Tenail Union Pay Quick Pass to complete a payment with a quick pass by scanning the QR code. This facilitates transactions and is very convenient for their investors. Hexindai also accumulates user data on the consumption process. Zhang said this may a potential business vertical in the future.
Zhang predicted that via Tenai Union Pay, investors will be able to provide loans to retail purchases and Tenai Union Pay will provide a rebate to Hexindai.
"The revenue from the retail transaction can be enormous.  More and more investors will be waiting to invest on our platform. We will also collect the big data from the transaction behavior," added Zhang.
Sponsored Links by DQ Promote