On Friday, Indonesia-based on-demand application service and digital wallet platform GO-JEK announced it has acquired three fintech startups. The three fintechs that GO-JEK acquired are Kartuku, offline payment service company; Midtrans, online payment gateway company; and Mapan, a goods sharing network.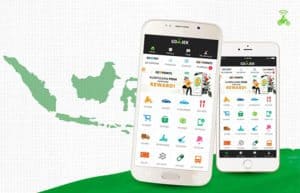 According to the company, the acquisitions will strengthen its position in providing an inclusive financial payment ecosystem to financial institutions, MSMEs, driver and other partners, as well as consumers – both banked and unbanked, in big cities as well as in the region. Speaking about the acquisitions,
Nadiem Makarim, Founder and CEO of GO-JEK stated:
"Every day we are always motivated by our partners and consumers stories, about how GO-JEK's technology has changed and made life easier. The existence of GO-JEK encourages the realization of a populist economy that connects not only sellers and consumers, but also encourages the growth of small and micro enterprises and provides real opportunities for improving the welfare of informal sector actors. Since the beginning of the GO-JEK stand, we always carry a mission to provide the widest and widest possible social benefits for millions of Indonesians.
"Now, it's time GO-JEK stepped into the new round. Through this acquisition, GO-JEK will collaborate with three leading national fintech companies in Indonesia that share the same vision and work ethic with us. This initiative is a strategic step in strengthening our foundations and steps in the Indonesian fintech industry."
Makarim then added:
"We are excited to welcome Kartuku, Midtrans, and Mapan into the big family of GO-JEK. We've worked together and tracked their development over the last few years and look forward to further collaboration to realize the same mission of promoting Indonesia's economic growth and improving people's lives through the spirit of financial inclusion. This is in line with the aspirations of the Government of the Republic of Indonesia to become the largest digital economy in Southeast Asia by 2020."
GO-JEK claims it is currently the largest app-based consumer service platform in Indonesia with more than 15 million weekly active users. The company also notes it is Indonesia's largest service for ride-hailing, inter-food service, instant online services, and a provider of digital wallets with 900,000 driver partners, over 125 thousand merchants, and more than 100 million transactions processed through its platform each month.

Sponsored