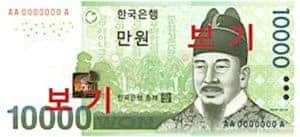 A few days ago we reported that South Korean government authorities had initiated a ban on all anonymous transactions in cryptocurrencies. Today, according to a report in Yonhap, officials will fine anyone who had not migrated a virtual account to a real name account.
Account holders are said to need to comply by the end of this month before they incur a fine.
Additionally, the same report stated that many financial related companies and government agencies were circulating employee requirements not to trade in cryptocurrencies. This included the Korea Exchange, the national stock market operator, and agencies such as the Fair Trade Commission, the Bank of Korea and more.
South Korea has struggled to manage the unregulated cryptocurrency industry. Public officials have vacillated as to how to best reign in a popular investment sector with rampant speculation and concerns of a bubble. The South Korean government is reportedly considering a total ban of all cryptocurrency trading – a potential move that has unsettled the global cryptocurrency markets. A ban may require legislation a process that would take a majority vote  in the National Assembly and several months at a minimum.
A petition not to ban cryptocurrency on the South Korean Presidential Blue House (similar to the US White House website) website has apparently received quite a bit of interest. The petition has now received over 179,000 signatures that have been collected and traffic has caused the site to crash at times. If the petition receives over 200,000 signatures, officials will respond to the public demand.
It is estimated that over 2 million South Koreans own some form of cryptocurrency as interest in Bitcoin and other digital coins has risen alongside the rapid rise in valuation.