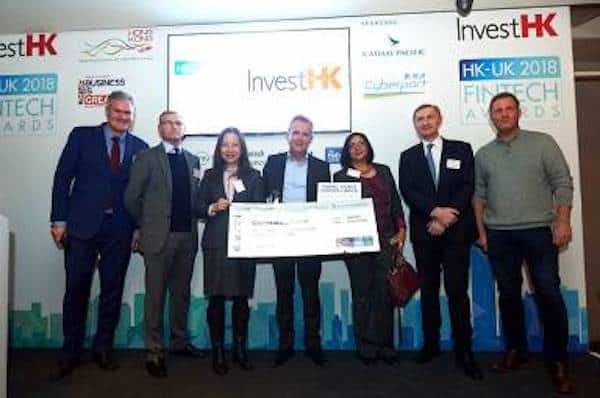 Mosaic Smart Data, a London based Fintech that helps financial institutions in adapting to regulatory change, has won the inaugural InvestHK UK Fintech Awards.  The recognition was revealed by InvestHK  along with the UK Department for International Trade. The competition received 30 submissions from UK based companies but organizers said the award drew interest from the wider global Fintech community.
Last September, the UK and Hong Kong signed an agreement to create a "Fintech Bridge". This collaborative policy is designed to foster Fintech innovation and closer alignment with regulators.
Mosaic Smart Data serves financial institutions in the fixed income, currency and commodities market harness data intelligently to service and predict client needs under new regulatory regimes. Its MSX platform aggregates multiple sources of transaction data, enabling financial institutions to easily build a comprehensive view of client, counter-party and prime broker trading activity, and meet regulatory requirements.
According to InvestHK, the company impressed a panel of judges as a solution tailored to the market with advanced industry-specific analytics that provide actionable insights into customer behaviour. JP Morgan has already signed up as its first client.
 "It will be intriguing to explore opportunities in Hong Kong, because the FICC markets are so big there. With so many regulatory environments in Asia, there would be a lot of potential for Mosaic," said Matthew Hodgson, CEO & Founder of Mosaic.
Co-organised by InvestHK and Hong Kong Economic and Trade Office London (London ETO), the Director-General of the London ETO, Priscilla To, said Hong Kong has "all it takes to be the launchpad for the products and solutions developed by Fintech companies and start-ups in Asia. We now have more than 150 Fintech companies – about 40% with overseas founders."
"Fintech is one of our priority areas in innovation and technology, and the Hong Kong Government is taking a number of steps that focus on this. Apart from increasing resources for research and development, we will provide investment funding to promote the development of start-ups."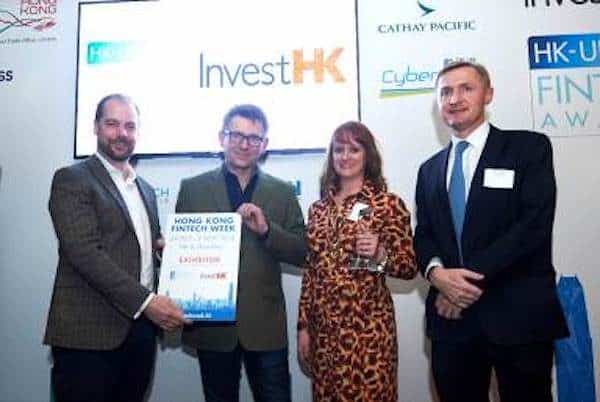 Charles d'Haussy, Head of Fintech for InvestHK, said they were excited to see how the competition connected UK talent with the rapid development of FIntech in Hong Kong. He said that many applicants matched well with Fintech sectors where Hong Kong excels, such as Regtech, Insurtech, Credtech and Blockchain.
"We strongly encourage ambitious overseas companies to join the flourishing Fintech scene in Hong Kong for their business expansion in Asia."
Runner-up in the awards was Digital Fineprint, an Insurtech startup from Oxford University, funded by a group of high-profile angel investors and venture capitalists, including Pentech Ventures and EOS Venture Partners. It uses predictive analytics to turn social data into insurance data.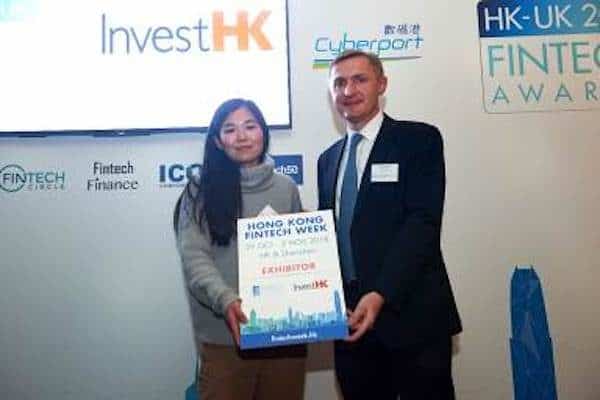 Both Mosaic and Digital Fineprint will visit Hong Kong in October for a bespoke five-day program of activities as part of their prize. Besides travel and accommodation, they will benefit from a program of introductions, networking opportunities and sector expert counsel hosted by InvestHK and Cyberport, as well as a complimentary booth at the Hong Kong Fintech Week 2018, which runs from 29 October to 2 November in Hong Kong and Shenzhen.
Three other award winners will receive a complimentary booth and ticket for Hong Kong Fintech Week 2018, and receive support from both the Hong Kong and London offices of InvestHK. These include:
Aid:Tech: Its core proposition is to marry access with identity as means to social and financial inclusion. The company leverages Blockchain technology and digital identity for the delivery of digital entitlements, such as welfare, aid and remittances, to the intended recipients. Clients include governments, NGOs and enterprises around the world.
Revolut: Is a  digital only challenger bank. Their app allows users to spend, exchange and manage multi-currency payments and currency conversion transactions globally in a seamless and user-friendly way. Revolut is headquartered in London, with support offices in Russia and Poland.
Railsbank: Aims to build a global digital transaction bank by connecting local banking partners to its platform. It has a global vision and aspires to connect the participants in Southeast Asia transaction banking industry via the Hong Kong market.
Sponsored Links by DQ Promote