Morgan Rockcoons, a once active LocalBitcoins seller and committed Bitcoin lifestyler, has tweeted that he is in crisis after being offered a deal from prosecutors to plead guilty to money laundering and unlicensed money transmission in exchange for a lighter sentence.
Rockcoons perceives the charges as a persecution of Bitcoin generally, and has stated that his case is part of a network of 8 test cases being prosecuted now across the US.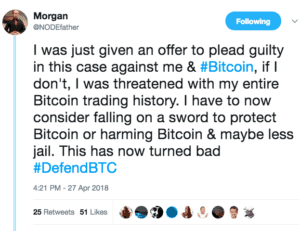 Rockcoons was arrested at the Palms Hotel in Las Vegas February 9th.
He is accused of selling Bitcoin to an undercover agent from the Department of Homeland Security who posed as a dealer of medical hash oil and who claimed he'd use the Bitcoin obtained from Rockcoons to buy a machine for the manufacture of hash oil.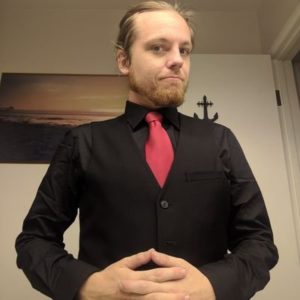 As is typical of many Bitcoiners, Rockcoons has advocated for the legalization of marijuana. He also claims to be a user of medical cannabis, and seems to have been unaware how transmitting bitcoins in relation to a cannabis business might get him into hot water federally. Rockcoons told Bitcoin magazine, "Buying equipment in California is not illegal especially medical (marijuana) equipment in a medical (marijuana) State that's been a medical state for 25 years."
Rockcoons has also stated that although the agent insisted on paying much more, he transmitted no more than $10 000 worth of bitcoins to the agent in the exchange. All transmissions of more than $10 000 in the US must be reported by law.
Federal prosecutors have tabled evidence that Rockcoons accepted a lump sum payment of $14 500 from the agent and failed to report the transmission.
The San Diego Union Tribune reported from an affidavit by the agents that Rockcoons told them he ran a marijuana business in San Francisco and wanted to be the "Steve Jobs of Cannabis and Bitcoin."
The agents also claim that Rockcoons had at one time written in a text correspondence;
"I'm a professional money manager and mover of funds without personal identifying information attached to the funds or equity. This is my speciality (sic)."
The Union Tribune have also reported that Rockcoons may have incriminated himself in an interview he knowingly participated in with federal agents without bringing a legal representative.

Rockcoons told a fellow Bitcoiner in an interview posted April 24th that since his arrest and as a condition of his bail, he has been unable to use marijuana to control his multiple sclerosis, a painful degenerative disease of the nerves.

The tweet by Rockcoons regarding the plea deal was followed by a series of desperate-sounding tweets in which Rockcoons seems to be suffering a crisis of spirit and a physical crisis:

I have been suffering horrible pain, headaches and nervous system failure without medicine that the Federal Government has banned me from using for over 100 days now. I can't even explain the physical & mental pain I am in everyday from Multiple Sclerosis.

Sponsored Links by DQ Promote