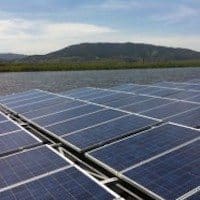 Neoen, an independent green energy producer, and WiSEED, a European crowdfunding platform, have  inked an agreement to partner on funding of renewable energy projects in France. The very first offering is to raise money for a solar energy project located at a former coal mining site in Carmaux-Cagnac, an extension of an existing solar panel farm that will spread out over 18 acres and produce a power output of up to 5MWc. The  offering is seeking a raise of €250,000 in a bond issuance where investors may earn an annual return of 5% over a term of 4 years.
According to WiSEED, French regulation allows producers that use crowdfunding for their renewable energy projects are entitled to higher feed-in tariffs than those that do not use it.
Developers are said to see crowdfunding as a way to boost local acceptance of their projects, with investors being attracted to this type of real-economy, socially responsible asset class.
Neoen and WiSEED expect an ongoing, long term collaboration for future projects.
As the French regulation outlines, only inhabitants of the Tarn department, as well as those of the 5 neighboring departments of (Aude, Aveyron, Haute-Garonne, Hérault, Tarn-et-Garonne), are allowed to invest in the project.
Jean-Marc Clerc, Responsable du Développement ENR of WiSEED, commented;
"We are delighted to have signed this agreement with Neoen, which is an internationally recognized renewable energy developer. This allows us to foresee a stream of high- quality projects for our clients, with this first solar panel project being an excellent start. With a power output that can cover the energy consumption of over 2800 households, it will allow savings of more than 2000 tons of CO2 a year. This is exactly the type of impact that our clients want to have by investing their money with us."
Xavier Barbaro, President of Neoen, said that renewable energy is an inherently local power source.
"We chose WiSEED because this type of collaborative funding effort is new for us, and we will need a strong partner to help us for the many other projects we have in the pipeline,"
Sponsored Links by DQ Promote