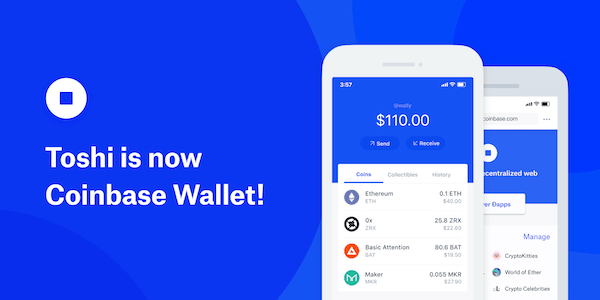 Crypto marketplace Coinbase announced on Wednesday Ethereum network browser Toshi is becoming Coinbase Wallet. Toshi was notably developed by the Coinbase team just a little over a  year ago and when it launched, Toshi featured what Coinbase claims to be the world's first mobile decentralized application (dapp) browser.
Coinbase reported while the Coinbase Wallet isn't a new name, it is part of the marketplace's larger effort to invest in products that will define the future of the decentralized web and make that future accessible to anyone. Coinbase revealed that it believes that the applications of the future will be built on a decentralized internet and everyone will eventually own a crypto wallet that allows them to access dapps and that wallet will be their gateway to the open financial system.
"Our goal was to make managing crypto and accessing the decentralized web as easy as downloading an app on your mobile phone. And as part of our effort to be the most trusted brand in the space, we also set out to provide best-in-class secure storage. With Coinbase Wallet, your private keys are secured using your device's Secure Enclave and biometric authentication technology."
Through Coinbase Wallet, users will be able to do the following:
Manage ETH and all your ERC-20 tokens (the network will soon support BTC, BCH, and LTC)
Receive airdrops and ICO tokens
Buy and store crypto collectibles and use them in games, or trade them on marketplaces
Send payments to anyone anywhere, without geographical borders or fees
Access leading decentralized exchanges and relayers to buy and sell tokens
Explore the full universe of third-party dapps, which allow taking out a loan or lending to others on the blockchain to earning crypto by answering questions, performing services, or completing tasks
Coinbase then added that Coinbase Wallet is one part of its effort to accelerate the adoption of crypto and dapps around the world.
"We're looking forward to keeping our community updated as we continue to build the most secure and easy to use crypto wallet in the space."
Sponsored Links by DQ Promote