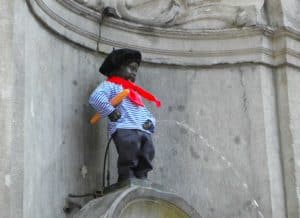 The Financial Services and Markets Authority of Belgium (FSMA) says it has been continuing to receive complaints from investors swindled by fake cryptocurrency platforms and is therefore reiterating its warnings to consumers:
"Cryptocurrencies are the hype of the year. Fraudsters are well aware of that, and try to attract customers online through fake cryptocurrencies and huge profits. The only thing they actually do, however, is take the customers' money and disappear. It is as simple as that."
One victim of a crypto fraud provided a testimonial for the FMSA website.
In it, the person states that he or she lost €5000 to a scam "crypto-exchange" he or she thought was located in nearby France.
That person's involvement with the scam began after he or she made an email inquiry to an "exchange" advertised online.
The consumer then received several phone calls from an purported exchange-representative, "with a Parisian accent, vaunting the advantages of investing in cryptocurrency":
"He told me that his company employs almost 300 people and has been active since 2009 in providing advice on investing in cryptocurrencies."
"Under a great deal of pressure," the person agreed to invest €5000 in Bitcoin.

Later, the consumer was advised to convert some of the Bitcoin to Ethereum, and during that transaction, €500 went missing. The amount was adjusted following a complaint from the consumer.

Ethereum then went up in price, and the investor asked the "broker" to sell, but the money was never transferred to his or her account.

The "exchange" subsequently changed phone numbers twice, and a call to one of those numbers by the concerned investor resulted in a woman answering the phone identifying herself as the broker's mother.

Further investigations proved that the business was in fact located in a London office tower with many small offices- not the sort of facility likely to house a business with 300 employees.

Subsequently, "exchange personnel" disappeared, emails went unanswered and the money was never recovered.

The FMSA maintains an updated list of cryptocurrency exchanges, "operating unlawfully in Belgium," and targeting Belgian investors.

The list currently includes the names and websites of 78 exchanges.

Sponsored Links by DQ Promote