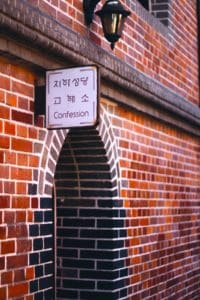 South Korean Finance Minister, Yong-Joo Park told auditors from the Finance Committee of the Yeouido National Assembly in Seoul this morning that ICOs (initial coin offerings) pose undue risks to investors and should not be equated with blockchain, Yonhap News reports.
"The government does not deny the promise of the block-chain industry," Minister Park told attendees, according to an automated translation. "I do not think it is necessary to equate the virtual-(currency) business with the block-chain industry," he said.
Jong-gu Choi, Chairman of the Financial Services Commission, the regulator of Korean financial markets, expressed similar thoughts:
"Many people say ICOs should be allowed, but ICOs' uncertainty remains, and damage is too serious and obvious. It is conservative or even prohibited for ICOs overseas."
Choi also commented on a tendency at cryptocurrency exchanges not to perform comprehensive identity confirmations on traders.
According to a September article at Bitcoin.com, although Korean banks had been prohibiting deposits into crypto exchange accounts not linked to real names since January of this year, only 40-50% of those accounts are using real names to date.
Earlier this month, the Korean government revoked laws granting the country's cryptocurrency exchanges special status as venture businesses, thereby depriving them of access to special tax rates that are half those paid by other businesses.
The Korean crypto exchange Bithumb reportedly turned a profit of $400 million in 2017, and reported profits of $35 million in the third quarter of this year, according to Finance Magnates.
Exchanges will also no longer be able to benefit from a 75% acquisition tax, and, "their privileges in securing funding and credit guarantees will disappear."
In response to the loss of special status, an anonymous source in the Korean crypto industry told Business Korea:
"The measure implies that the government is regarding not only cryptocurrency exchanges but also every blockchain-related venture firm and business as gambling. The measure will hamper blockchain technology development and developer recruitment for growth of the blockchain industry."
Coindesk Korea has reported that the Korean government will make its stance on ICO's official in November after a two month survey started by the Korean Financial Services Commission regarding ICOs wraps up in October.

Sponsored Links by DQ Promote