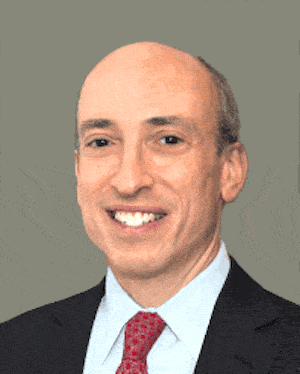 Former CFTC Chairperson and Current MIT Lecturer Gary Gensler told reporters at Bloomberg Monday that cryptocurrency markets need more protection than commodities:
"The pure cash cryptocurrencies like Bitcoin need more protection, and probably more protection, than, frankly, even the oil markets and corn and wheat."
The majority of his conversation with the reporters focussed on balancing regulation and innovation.
Gentler said that he believes that blockchain, the distributed ledger technology that underlies Bitcoin has, "a real chance to be a catalyst for change in the world of finace…because it moves data and it also applies…computer code across a decentralized network."
He also said interest in the tech is very high at MIT (Massachusetts Institute of Technology), where he teaches a class in blockchain:
"I'm teaching blockchain technology at MIT and the class is crowded," he said.
But the technology must be properly ushered in and integrated within the law in the name of investor protection, he added:
"If we really think crypto is going to be part of the future, it really needs to come inside the public policy envelope. We need to guard against illicit activity and…protect investors. The crypto exchanges- big exchanges like Coinbase- need to really come within or the SEC or the CFTC…inside of something to protect investors."
The host then sought to distinguish blockchain from cryptocurrencies. "Do we need to regulate blockchain? Because we don't normally regulate computer programs," he asked.
Gensler advocated, 'neutrality':
"We should be technology neutral to promote innovation…but just ensure that its application -like cryptocurrency- that its investors are still protected; make sure that there's not fraud and manipulation- to the extent we can in the Bitcoin markets."
Gensler did not address what some have identified as a need to establish global standards in the creation of blockchain tech intended to operate publicly or internationally.
In April, New York Times reporter Nathaniel Popper wrote that agents from the Russian intelligence agency the FSB told attendees at a meeting of the International Standards Organization, which "ensure(s) that important technologies are built or measured in the same way all over the world," told other delegates at the meeting:
 "The internet belonged to America. The blockchain will belong to the Russians."
Gensler instead focussed his comments on internal regulation within individual jurisdictions:
"It's always a challenge (to regulate new sectors). That was true when when the Internet came along in the 1990s…but I don't think we should give up. We should still try and protect investors, and then there's more confidence in markets, and when there's more confidence in markets, then more people can participate."
Regarding the role out of crypto-derivatives, Gensler noted that futures are already being traded on Bitcoin in the US and on Ethereum abroad, and said he expects those markets could see options trading on crypto in the next six months.
He said that sentiment around blockchain tech's potential is still subject to hype, and he sees "a three-to-five-to-ten year" window before blockchain-based networks like Bitcoin can handle anywhere near the same amount of transactions as legacy payment channels like Visa.
"Visa moves 25 000 transactions a second. Bitcoin moves 7-10 transactions a second…I'm an optimist- I think the scaling will come."
In terms of how crypto should be regarded by securities regulators, Gentler remarked:
"I think those crypto-assets called initial coin offerings- it's like the old duck test: if it quacks like a duck and whales like a duck, it's a duck- these things act like IPO's."
He said that although many countries around the globe have stated their intent to protect investors and guard their tax bases, "…the reality is its really hard to implement," and standardize across the globe.
While some small population countries like Malta have courted ICO and crypto industries, "and want their CEOs to land there," said Gensler, places like India and China, which have officially banned ICO investing, nonetheless still have a fair amount of Bitcoin being traded "underneath."
Meanwhile, regulators, wherever they can, should be guiding consumers into the right channels, said Gensler:
"I would say you want some type of regulation, you want traffic lights and speed limits cuz then the public is confident to drive on the roads, in this case the crypto roads. So I think the two (innovation and regulation) can coexist, but it'll take a few years to sort through and get the balance right."
---
Sponsored Links by DQ Promote