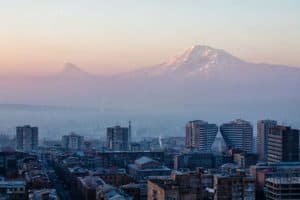 Local news agency Arka has announced that a large crypto mining facility has opened in the Armenian capital of Yerevan.
The facility, the country's first, currently hosts 3000 machines mining Bitcoins and ether, but will one day host 120 000 machines, its creators believe.
According to Arka, the mine has been established thanks to the cooperative efforts of Armenia's Multi Group Concern and Omnia Tech International Company.
The opening ceremony was reportedly attended by businesspeople from China, South Korea, the United Arab Emirates and other countries and was presided over by Armenian Acting Prime Minister Nikol Pashinyan and Gagik Tsarukyan, an Armenian "tycoon" who is also head of Multi Group and the leader of "the Tsarukyan parliamentary faction."
The Multi Group reportedly employs more than 25 000 people in Armenia, and Omnia owns the machines in the facility.
An additional 40 guests were expected to tour the facility in the days following the opening.
Tsarukyan told attendees at the ceremony that about $50 million dollars had been invested in the creation of the mining farm, which also houses "an IT business centre with non-stop operating services" on the main floor.
As cryptocurrency prices have contracted this year, so too have crypto mining profits, and some are now openly wondering whether crypto mining, an energy-intensive system of processing and securing crypto networks through complex mathematical calculations, will remain as significant in coming years.