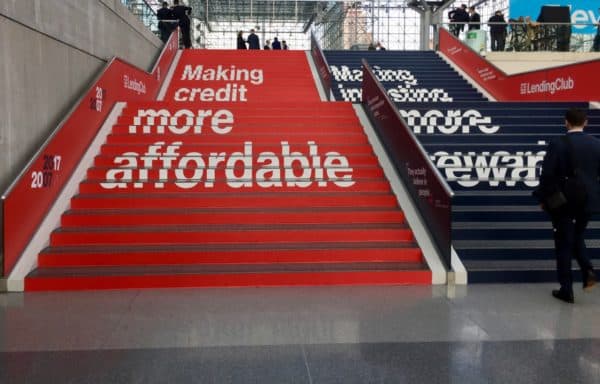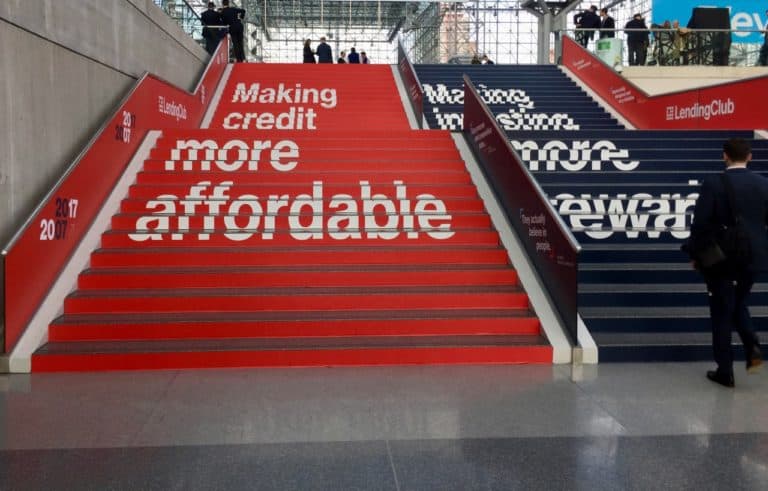 Marketplace lending platform LendingClub (NYSE: LC) has reported financial results for the third quarter ended September 30, 2018.
According to the company, net revenue rose 20% year over year to a "record" $184.6 million. Loan originations came in higher too at $2.9 billion, up 18% year over year. Loan originations increased as well, rising 18% versus year ago quarter. LendingClub reported a GAAP consolidated net loss of $(22.7) million, or $(7.3) million excluding $(15.5) million of expenses related to outstanding legacy issues. The net loss in Q3 2017 stood at ($6.7) million.
LendingClub CEO Scott Sanborn commented on the results:
"We are achieving record results, resolving outstanding legacy issues and leveraging our data and scale to drive product and process efficiencies. Together, we expect these will deliver responsible growth, operating leverage and GAAP profitability that positions LendingClub well for the long term."
Tom Casey, LendingClub CFO, added:
"We are on track to deliver on the revenue and margin goals that we set out at our investor day in December 2017. Year to date, our net revenues grew 23% while G&A and tech costs grew 6%, helping Adjusted EBITDA margins to more than double to 13.5%."
LendingClub said they had settled several matters regarding outstanding legacy issues including an SEC and Department of Justice Investigation. It was reported in October that LendingClub had paid out $6 million to settle these issues.
Additionally, the company said they had "continued constructive engagement with the Federal Trade Commission regarding ongoing litigation."
LendingClub said it remains well positioned for the long term.
Full year guidance for the fiscal year is expected as follows:
Net Revenue in the range of $688 million to $698 million.
GAAP Consolidated Net Loss in the range of $(129) million to $(124) million, reflecting expenses related to outstanding legacy issues through the third quarter partly offset by higher Adjusted EBITDA guidance.
Adjusted EBITDA in the range of $89 million to $94 million.
Shares of LendingClub changed little in after hours trading following the earnings report.
The earnings call will be held today at 5:00 PM ET (November 6, 2019).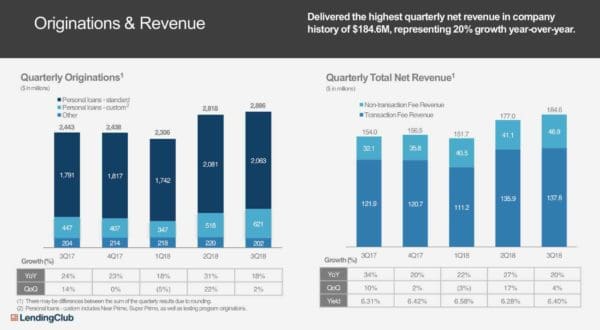 LendingClub Third Quarter 2018 Financial Highlights
Originations – Loan originations in the third quarter of 2018 were $2.9 billion, improving 18% compared to the same quarter last year and improving 2% sequentially.

Net Revenue – Net Revenue in the third quarter of 2018 was $184.6 million, improving 20% compared to the same quarter last year and improving 4% sequentially, driven primarily by a higher volume of loan originations in the third quarter of 2018 compared to the same quarter last year and compared to the second quarter of 2018.

GAAP Consolidated Net Loss – GAAP Consolidated Net Loss was $(22.7) million for the third quarter of 2018, declining $(16.1) million compared to the same quarter last year and improving $38.1 million sequentially. The increase in loss for the third quarter of 2018 compared to the same quarter last year was primarily driven by expenses related to outstanding legacy issues. The decrease in loss for the third quarter of 2018 compared to the second quarter of 2018 was primarily driven by $35.6 million of goodwill impairment expense related to the Company's patient and education finance unit recorded in the second quarter of 2018.

Adjusted EBITDA – Adjusted EBITDA was $28.1 million in the third quarter of 2018, improving $7.2 million compared to the same quarter last year and improving $2.4 million sequentially.

Contribution – Contribution was $88.5 million in the third quarter of 2018, improving $12.5 million compared to the same quarter last year and improving $3.0 million sequentially.

Earnings Per Share (EPS) – Basic and diluted EPS attributable to LendingClub was $(0.05) for the third quarter of 2018, compared to basic and diluted EPS attributable to LendingClub of $(0.02) in the same quarter last year and $(0.14) in the second quarter of 2018.

Adjusted EPS – Adjusted EPS was $0.03 for the third quarter of 2018, compared to adjusted EPS of $0.03 in both the same quarter last year and in the second quarter of 2018.

Cash, Cash Equivalents and Securities Available for Sale – As of September 30, 2018, cash, cash equivalents and securities available for sale totaled $513.5 million, including $108.0 million in securities available for sale subject to regulatory risk retention requirements of which $24.7 million in securities were pledged as collateral.

Loans Held for Sale by the Company – As the Company continues to build its investor programs, it uses cash to accumulate loans for future transactions. Loans held for sale by the Company at the end of the third quarter of 2018 were $459.3 million, which were financed with $185.8 million of debt outstanding under the Company's warehouse credit facilities.

Sponsored Links by DQ Promote