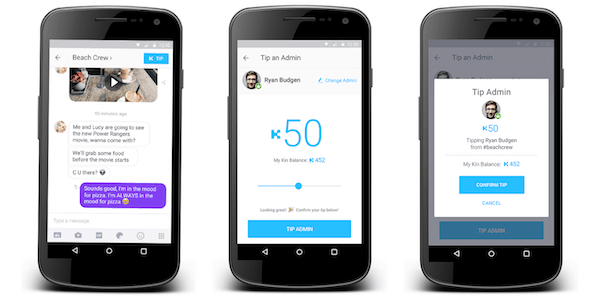 Kik, a Canada-based chat platform, announced on Thursday the launch of its new peer-to-peer transaction feature, which is powered by Kin. According to Kik, the feature will allow users who are participating in public group chats to reward group administrators for facilitating positive and meaningful user interactions inside the app, thereby keeping groups productive, engaging, and safe. 
While sharing more details about the feature,  Laura Newton, Head of Product for Kik, stated:
"Kik users meet new people and make friends online in public groups everyday, which makes it an ideal environment to launch our next Kin product. The addition of admin tipping incentivizes public group admins to foster enjoyable chat experiences on Kik, while giving group participants the opportunity to thank admins for maintaining these spaces in the app."
Ted Livingston, Founder of Kik, also commented:
"Kik's integration of Kin started with a simple experience, allowing the team to gauge the user response to cryptocurrency, and iterate on these insights. The introduction of this new peer-to-peer experience is a huge step forward in shaping Kik into the lighthouse example for new and existing participants in the Kin Ecosystem, and propelling Kin toward becoming the most used cryptocurrency in the world."
Founded in 2009, Kik allows users to connect with friends, groups, and the world around them through chat. The company reported:
"We believe the smartphone era represents a transformation as big as the rise of the PC or the creation of the Internet. Your smartphone is actually part of you: always on, always connected, and always with you. And your smartphone puts the world in your pocket, wherever and whenever you want it. We believe that chat is at the core of the smartphone era."
The company also noted that more than 40% of American youth use Kik to chat, browse and share with their friends, putting Kik in a unique position.