Charles Randell, Chair of the Financial Conduct Authority, has forwarded a letter to Rt Hon. Nicky Morgan MP, Chair of the Treasury Select Committee on London Capital & Finance. The document addressed concerns regarding the issuance of mini-bonds and investor protection concerns – more specifically for smaller investors.
Randell stated that the FCA Board had decided that an independent investigation should be commissioned to discern:
whether the existing regulatory system adequately protects retail purchasers of mini-bonds from unacceptable levels of harm; and
the FCA's supervision of London Capital & Finance (LC&F).
LC&F sold approximately £236 million worth of bonds to 11,000 investors. The security was expected to pay investors annual returns of 3% to 8.5% but has since collapsed thus leaving little money to cover a "growing financial scandal."
LCF was the issuer of mini-bonds which were used to make loans to corporate borrowers. LCF filed an application for an administration on 30 January 2019 as it had become insolvent.
The issuing of minibonds does not normally involve the carrying on of an FCA regulated activity. Therefore, LCF did not need to be authorized by the FCA to issue these securities.
Mini-bonds, while similar to more traditional bonds, do not require the heightened degree of scrutiny typically demanded and are non-tradable securities. These bonds have also been issued by private companies leveraging the services of investment crowdfunding platforms.
The letter from the FCA to the Select Committee may be expected to start a review that finishes with updated rules regarding the debt vehicle.
An FAQ has been posted on the LCF site to help inform both investors and borrowers in the mini-bonds. It has been reported that investors may receive little to none of their money back.
---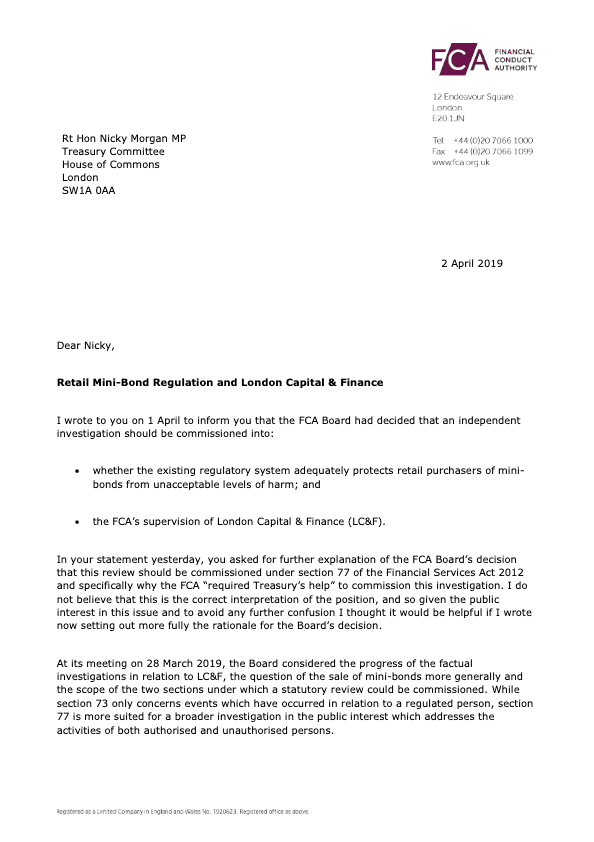 Sponsored Links by DQ Promote