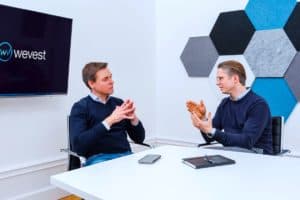 Digital investment bank wevest has announced it has selected Stellar as its preferred iteration of blockchain for issuance of security tokens.
In a blog post, the Berlin-based Fintech stated:
"After extensive diligence and testing, wevest has identified Stellar as the most suitable platform for its new product."
Stellar appears to be gaining traction in the security token issuance sector. Recently, the Bafin approved digital bond offering from Bitbond selected Stellar as its blockchain of preference. In March, IBM announced the launch of World Wire – a global payments system that operates in real time would be built on Stellar.
Stellar Lumens (XLM) is a top ten crypto with a market cap of around $2.2 billion.   Launched in 2014 by Mt Gox and Ripple co-founder Jed McCaleb, the platform first focused on the transfer of fiat to crypto. Their mission is to connect "people to low-cost financial services to fight poverty and maximize individual potential." Today on its site, Stellar promotes itself as the future of banking. Stellar.org operates as a not for profit accepting donations while keeping 5% of the Lumens to fund its development. From the beginning, Stellar was backed by Stripe and has since listed Google, Blackrock, and others ars corporate donors.
wevest is part of Berlin's growing Fintech scene. Their mission is to provide investment banking services, such as wealth management, corporate finance, and security token offerings for high net worth individuals and smaller corporations.
In Germany, under existing crowdfunding laws a company may issue securities of up to €8 million before the issuer must produce and distribute a prospectus. wevest sees an opportunity to remove friction in the capital raising process by leveraging digitized debt and equity for smaller issuers.
wevest expects to offer equity investments, electronic securities, and professional wealth management by the second half of 2019. Additionally, wevest has partnered with other platforms such as Engel & Völkers Capital for real estate projects and Kapilendo for debt and mezzanine financing.
wevest is part of a growing number of digital first full stack financial service firms. Expect more of these companies to percolate up in the not so distant future.