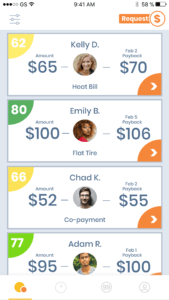 SoLo Funds, a peer-to-peer lending platform that provides access to small loans, reports that it is now available across the contiguous US.
Travis Holoway, CEO and Co-founder of SoLo Funds, says there is no longer a need to go to a payday lender.
"SoLo is solving the needs of the 78% of Americans that live paycheck to paycheck who need quick access to affordable loans."
Today, traditional banks are not an option for small-dollar loans as they don't lend in sub $1,000 increments. Frequently, the alternative is to opt for payday and title loan services which charge interest rates and fees that can go quite high.
SoLo says users can pick up their phone and request a loan within minutes from all 48 bordering U.S. states. Their marketplace is said to conform to fair lending practices.
Solo uses a proprietary credit score process that reviews banking history, social and behavioural data. Loan amounts vary from between $50-$500 and have a maximum duration of 30 days.
Lesa Mitchell, Managing Director of TechStars, described Solo as "the perfect opportunity for investors that want to do well financially while doing social good simultaneously. This financial alliance is changing lives and SoLo is paving the way."
While the concept is interesting as it creates a marketplace for peer to peer lending for risky, short term loans, when you visit the website there is no information, at least that I could find, on interest rates as well as default risk and recovery. That is the type of information lender must have. I did find this article from some time ago which shared a single lender's experience.