London based Regtech ClauseMatch has received venture debt funding from Silicon Valley Bank (SVB). The $2.5 million loan package will be used to support the company's growth in Europe and Asia. Recently the company started operations in South East Asia based in Singapore. ClauseMatch received $5 million in a Series A funding a year ago in April.
ClauseMatch is a software firm that enables financial institutions to comply with their internal corporate governance documentation (standards, procedures, controls). ClauseMatch is a 2014 graduate of the inaugural Barclays accelerator program, BBVAOpen Talent challenge winner, and is in the top Regtech companies selected by CB Insights and Dow Jones. In 2018, ClauseMatch was a Banking Technology awards runner-up to the Bank of England for the "Best use ofRegTech".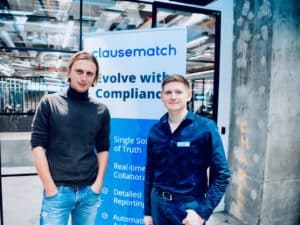 ClauseMatch incorporates an understanding of the regulatory lifecycle and machine learning to standardize and automate processes and workflows across teams, reducing costs, speeding up implementation and demonstrating compliance to regulators.
The company says it is already live at several global financial institutions including Barclays and digital bank Revolut.
Evgeny Likhoded, ClauseMatch CEO and founder, said their growth has been driven by the need for a new approach to compliance as financial institutions struggle to navigate complex regulatory environments across countries where they operate. As regulations are constantly changing, Likhoded said his company is "a perfect fit" for the increasing compliance challenges that typically handled via a manual process.
"Our ambition is to create a world where compliance is transparent and viewed as a business enabler rather than a hindrance. Our clients being global means that we already have a presence in many regions across the world. The funding received from Silicon Valley Bank will help us deliver our solution to financial institutions that are headquartered in Europe, Asia and US," said Likhoded.
Craig Fox, Vice President at Silicon Valley Banks UK Branch said there is no doubt that there will be significant demand for ClauseMatch's compliance platform.