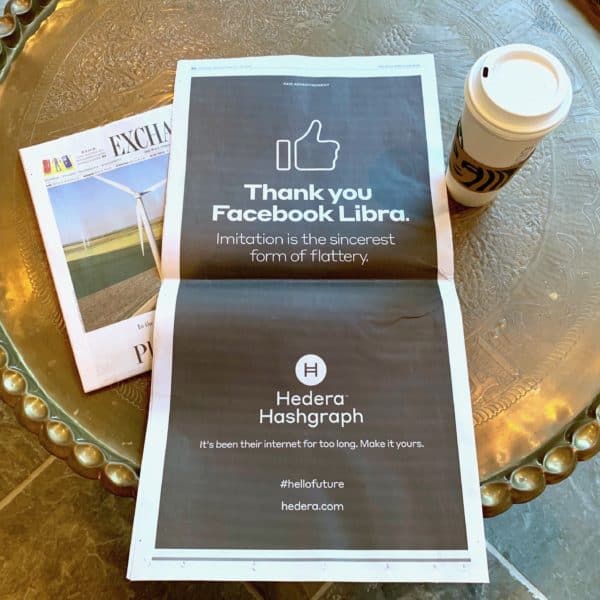 Hedera Hashgraph, one of several aspiring iterations of blockchain, or distributed ledger technology, designed to address existing shortcomings in DLT 1.0, has paid for a full-page advertisement in the Wall Street Journal mocking Facebook.
Last week, Facebook officially launched "Libra" its spin on crypto. The stablecoin seeks to be the one cryptocurrency to rule them all starting with global payments and ratcheting up from there. The Libra blockchain can also provide "smart contracts" so, in reality, it hopes to accomplish far more than being a digital reserve currency. In fact, Facebook wants to become a crypto Fintech that replaces traditional banks.
Facebook has been shunned by the youth due to its creepy approach to social media. Facebook is legendary in its abuse of user data and how it packages it up and sells it to the highest bidder.
The Cambridge Analytics scandal has reportedly caused likes, shares and posts to decline by about 20%, according to a recent report. In the end, Facebook users are the product.
Yes, Hedera competes with Facebook – it is on a mission to be the Ethereum replacement as a "public distributed ledger for building decentralized applications." Hedera's governance council includes DLA Piper, a multi-billion dollar law firm, Nomura Holdings, Swisscom, and Deutsche Telekom (a $75 billion per year telco firm). Hedera has promised to never fork too.
Time will tell if Hedera, Libra or some other flavor of blockchain reigns supreme but with more and more critics lining up to undermine Facebook's attempt to be the one DLT to rule them all, it is not a foregone conclusion that Libra will be the success Facebook wants it to be.